Empty Bottle, Chicago
Saturday, September 26, 2009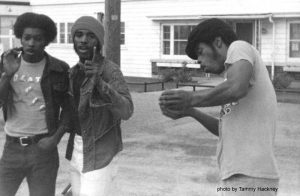 If you feel exhausted by a parade of artists who are only now getting their due for either influencing punk or freak folk or electronic music or raga . . . you're excused. Whether Radio Birdman, Zero Boys, Rocket From The Tombs, or Vashti Bunyan, there's no shortage of people who would be worshipped if only people had better taste 30 years ago.
Drag City is starting to build a villa for these folks on its roster, if Gary Higgins, Red Krayola, and Larry Jon Wilson would be so kind as to make enough room for Death. Death were the ideal Detroit companions for The MC5 and Stooges and, had the three brothers been fortunate enough to have their songs released in 1976, would be hailed as punk fathers, if not the first punk band. Had the demos that make up their 2009 "debut" album, For The Whole World To See not been issued by Drag City, it's more likely people who saw them would vaguely remember an all-black power trio in the vein of Love's "7 And 7 Is."
But history has been amended. Though David Hackney, who died in 2000, cannot take part, Bobby Sr. and Dannis are touring with the rare opportunity to establish their places in the past. Despite a dalliance with Columbia Records, Death only had a 7-inch single to their credit, which has since become a collectors' item. While the volume and speed of World is indicative of punk, the band were still clearly in tune with classic rock of the time: harmonized guitar riffs, spooky psychedelic interludes, a freakish lack of irony. This is actually a recording that counts despite its context, or lack there of.
Rough Francis — Hackney-family relatives — and Tyvek open.
— Steve Forstneger
Category: Stage Buzz, Weekly