Washington Park, Chicago
September 5 – 7, 2009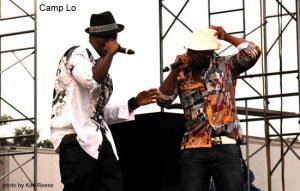 Forget the '80s revival. The '90s were back in full force when an array of 90s alt hip hop groups played the African Festival Of The Arts on Saturday. Pharcyde, Souls Of Mischief, and Camp Lo served up jazzy beats and free-flowing rhymes to eager fans, celebrating the '90s golden age of hip-hop.
"Are y'all ready for The Pharcyde to rip this shit up?" yelled the MC . The four original members (Imani, Bootie Brown, Fat Lip, and Tre) strolled casually onto the stage announcing, "We gonna rock this house for J Dilla." The late hip-hop artist produced the group's second album, Labcabincalifornia, so the quartet led a chant of "When we say Dilla, you say killa!" in tribute.
The chanting primed the crowd of 20- and 30-somethings for a laidback showcase of The Pharcyde hits. They kicked off with the classic dis track, "Ya Mama." Bootie Brown's high-pitched voice paired with the refrain of "Ya mama got a glass eye with a fish in it," stirred up hip-hop silliness of another time. The group dived into the mellow groove of "Runnin'" and "Drop," inspiring lots of head-bobbing and singing along. After several lesser-known tunes that caused the crowd's attention to drift, their signature "Passing Me By" raised the energy to a furious level. Each MC delivered the song's clever verses with controlled skill but were drowned out by the fans singing. "What we do up here is strictly for the joy and love of the music," explained Imani as they walked off. That's an attitude that current hip-hop stars could really benefit from.
Souls Of Mischief and Camp Lo continued the '90s nostalgia. Repping the Hieroglyphics crew, the Oakland-based Souls Of Mischief performed their best known hit, "93 Til Infinity," to booming bass rhythms mixed with high energy. A-Plus, Opio, Phesto, and Tajai prowled around the stage, trading rhymes to hits like "Never No More" and "Let Em Know." They also announced a new album coming out, Montezuma's Revenge, and performed a single from it, "True Stories." The tune didn't reveal much in terms of lyricism, with lines like "We used to dream about it/ never thought it's be real/now we on trains, planes and automobiles." But the group still managed to build excitement with charismatic stage presence. Bronx duo Camp Lo experienced technical problems, their DJ didn't make it, and their beats weren't clear. They still performed their '97 hit "Luchini" with grace, along with "Glow" and "Spanish Harlem."
On Monday, local hip-hop was strongly represented by MC and poet Phenom, who supplied a riveting mix of rapid-fire flow and smooth singing. Singer/MC Ugochi captured the crowd with soaring vocals and a mélange of jazz/funk/African original tunes like crowd faves "African Butterfly" and "Chicago."
— Rosalind Cummings-Yeates
Category: Live Reviews, Weekly