Chicago Theatre, Chicago
Monday, September 14, 2009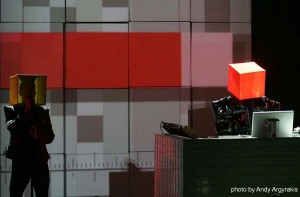 Pet Shop Boys have endured for so long that they've seen the electronica era in its original incarnation, persevered through its unfashionable years, and are right back in style now that the scene's found a steady resurgence. Just ask The Killers, Scissor Sisters, or Fischerspooner who's inspired the majority of their beat-infused rhythms and chances are the names Neil Tennant and Chris Lowe top their lists.
Across a much-too-quick but intensely satisfying 90-minute theatrical extravaganza, the famed dance duo delivered plenty of reasons why the group's influence dives much deeper than just the handful of radio hits amassed across the 1980s. After opening with the throbbing retro cut "Heart," the party fast-forwarded to the present for "Did You See Me Coming?," one of the most infectious tracks off the new Yes (Astralwerks) that simultaneously provides a throwback to the disco days merged with more modern sounds a la Daft Punk.
The pulsating current cut "Pandemonium" provided a pleasurable throwback to 1993's Very era, so it's no wonder why it fit so seamlessly mashed up with that album's staple "Can You Forgive Her?" The celebration continued at full electronic tilt with the Village People's "Go West" (albeit a slightly abbreviated version lacking the soulful reprise) and a quirky but catchy rendering of Willie Nelson's "Always On My Mind."
Speaking of covers, the Boys played the ultimate trump card incorporating elements of "Domino Dancing" with an entire club-infused interpretation of Coldplay's "Viva La Vida." Not only did Tennant nail the notes better than Chris Martin, but this rendition is destined to conquer the dance charts even quicker than the original tune rose up the rock ranks.
As delectable as these moments were, the evening wasn't without its flaws, including flubbed computer programming prior to "Do I Have To?" that forced the pair to start from scratch. But Tennant recovered gracefully to deliver the tender ballad, backed by dramatic choreography from two female backing dancers. However, a male/female dance partnership during "Jealousy" truly stole the show, walking a delightfully bizarre line between ballet and breakdancing (though it was odd to see the singer decked out in a tux, while his supporting cast wore Adidas).
Of course, there were plenty of costume changes and head-dress swaps, which ranged from colored boxes that encompassed all of the performers' heads so their faces were completely hidden to hats with greenery popping out. Though some expressions were nothing more than giggle-worthy kitsch, it was clear the troupe kept a tongue-in-cheek attitude the entire time.
The most impressive display was a series of several dozen cardboard boxes stacked on top of one another to double as projection screens. It was perhaps the most innovative use of low-budget special effects throughout the group's entire history and confirmed the Boys' visual creativity is just as compelling as its compositions.
The peak of the performance came during "It's A Sin," featuring the full cast of dancers and a violent earthquake of all the boxes, enhanced by colorful confetti blasts. Given that over-the-top, opening-set closer, it was surprising to see a comparatively subdued encore of the stripped-down ballad "Being Boring." Nonetheless, "West End Girls" brought the mood back up to electrifying, though it signaled a somewhat abrupt finale considering two of the group's biggest hits — "What Have I Done To Deserve This?" and "Opportunities (Let's Make Lots Of Money)" — were ignored.
Perhaps those omissions were a statement that the twosome no longer care about the mainstream pop masses and are only concerned with the club faction of their fanbase. Even with those snubs, their sugary synth sounds were so sharp there's no denying these PSB are back in the game and running circles around countless acts who are half their age.
— Andy Argyrakis
Category: Live Reviews, Weekly