Quenchers, Chicago
Saturday, August 1, 2009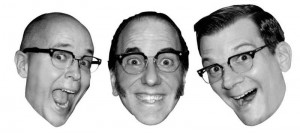 For the longest of times, we thought Chicago's Polkaholics had done wrong by both polka and punk bands — or right. We forgot which. They're certainly doing right by Walter "Li'l Wally" Jagiello, whom they brought back here from Florida and played with 'til his 2006 death.
Wally! A Polka-Rock Opera is mostly a tribute that follows the post-war saga of Li'l Wally, who hung out on Polish Broadway in what's now Bucktown and Wicker Park. But what the record really does is confront us with the fact punk owes more to polka than anyone will admit. Granted, the 1-2/bass-snare beat is hardly an exact theft (ironically, Polkaholics point out that Wally revolutionized polka by slowing it down, and here they are speeding it up), but it's close enough. No matter where Wally goes, so do your knees, bobbing in delight even as the angry, Against Me frame begins to set around the picture. The band will play the album in its entirety at Quenchers.
— Steve Forstneger
Category: Stage Buzz, Weekly