Empty Bottle, Chicago
Thursday, July 23, 2009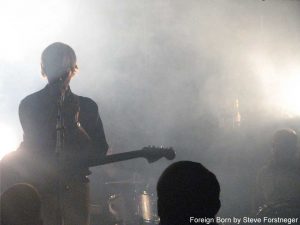 Venturing out to experience Foreign Born and The Veils on Thursday proved to be fortuitous. Previewing the show last week, I wrote of a darkness on FB's debut, Person To Person (Secretly Canadian), how you could trip over extension cords while listening to it, and blah blah blah.
Well allow me to retort. At the Bottle, Person was the summer album I'd read about but couldn't hear. This isn't a repudiation of my initial impression, since I still feel Walkmen fans are more likely to come away with treasure than Vampire Weekenders. But something about the bass meeting the beat before the guitars made all the difference. Suddenly "That Old Sun"'s cowbell wasn't leading the drums but providing counterpoint; "Lion's Share" held fast to its VU/Television upbringing, but only as conceived by The Byrds first. Anything with a touristy African beat surged, and for the first time an extra percussionist was the fulcrum on which a band relied.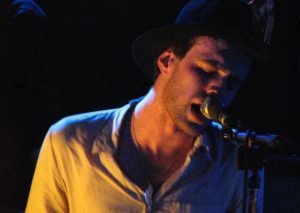 The Veils by Steve Forstneger
The Veils, who headlined, were semi-opposite, too. Finn Andrews built his band's third album, Sun Gangs (Rough Trade), on a seesaw so it could tumble from seething rock to candlelit elegy, though it's the latter that give the record its personality. Drawing mainly from it and its predecessor, Nux Vomica, he preferred the agitated side and frequently seemed a broken-synapse away from stripping his guitar of its hardware. "Killed By The Boom" embodied this volatility, nearly unable to contain itself for the anthemic chorus. Even when Andrews was sat behind a keyboard he appeared to be biting his lip, eager to launch the instrument like a poker table and machine-gun the place.
— Steve Forstneger
Category: Live Reviews, Weekly