Empty Bottle, Chicago
Wednesday, August 5, 2009
Thursday, August 6, 2009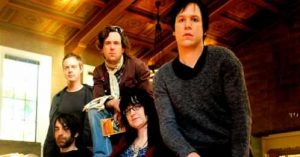 Far from the cold-eyed evildoer of their namesake movie, The Warlocks' music is religion to them, a dirge-like moan that emanates like prayer from a Buddhist temple — contextualized by pop melodies and heavy drug use, of course.
But pop music is so six years ago for them. Not that Phoenix (Mute) was really much of a pop album, but since then The Warlocks have spent two albums crafting their sound instead of songs. This year's The Mirror Explodes (Tee Pee) isn't going to put a stop to their (decided lack of) momentum, though you never know what can happen once they manage to lift the bookcase that has fallen on their spirits. "Red Camera," "Midnight Sun," and "Static Eyes" are adventures in volume and sustained, rumbling feedback, not necessarily the kind that pierces your ears (though there's that, too), but the kind where you can't decide if you turned the amplifier off or if there's a jet engine on the front lawn. If it's the latter, it's the result of all that praying.
The Morning After Girls and Gliss open.
— Steve Forstneger
Category: Stage Buzz, Weekly