Bottom Lounge, Chicago
Thursday, August 6, 2009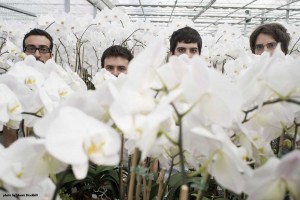 If they don't kill each other, You Can't Take It With You is a place where prog-rock, R&B, and Death Cab fans can harmonize.
As Tall As Lions, as approachable as they come across, deserve credit for following their muse. Granted, You Can't occasionally sounds forced together and peters out two-thirds of the way through, but bands looking to fly up the ladder don't do, well, this. More to the point, white indie rockers don't do modern R&B (unless they're taking the piss).
At its core, the album is unfussy progressive pop with non-jarring movements that feel more the product of affable eccentricity than any palpable madness. Openers "Circles" and "Sixes & Sevens" (perhaps a nod to the first two titles on Sunny Day Real Estate's debut) immediately get across that rhythms will plot the course; vocalist Dan Nigro and the guitars will then add textures where they see fit. Neither track hints at the slow jam on the horizon, though when the title track arrives it's hardly disruptive. The breathy chorus wouldn't have been out of place on a turn-of-the-millennium Maxwell album, try as the guitars might to hinge things on Pink Floyd psychedelia.
It completely frees the album to do whatever it wants, from the Prince-meets-Blue Nile ambience of "Duermete" to the megaphone'd piano blues of "We's Been Waitin'." Ideas begin to run out at this point and there's a maddening tendency for As Tall As Lions to slip by in U2 mode, but it's an encouraging turn nonetheless.
RX Bandits and Dredg headline.
— Steve Forstneger
Click here to download "Ghost Of York" from 2006's self-titled album.
Category: Stage Buzz, Weekly