Martin
1 Series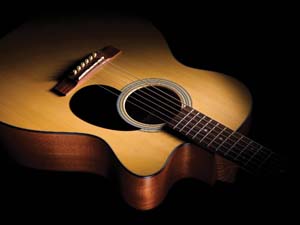 Due to a slowing economy, C.F. Martin & Co. is bringing back its acclaimed 1 Series of acoustic guitars. Initially introduced in 1993 in response to another dodgy economic period, Martin's revamped recession fighter is a traditional solid-wood guitar in the spirit of the Style 15 and Style 17 models Martin introduced during the 1930s. According to the company's press department, Martin "is addressing the concerns of U.S. consumers by providing players with an affordable, solid-wood bodied guitar, backed by their 175-year heritage of exceptional guitar making." Assembled from tonewoods, including a Sitka spruce top, Sapele back and sides, and East Indian Rosewood fingerboard and bridge, it features a modified-hybrid scalloped-top bracing and comes in a Dreadnought acoustic and electric-acoustic version. The electric is equipped with a Fishman sound-reinforcement system that offers full volume and tone control and an onboard digital chromatic tuner. Martin will likely retire this model once the economy is full steam again, so the the 1 Series is both affordable and a collector's piece. Retail is $799; visit www.martinguitar.com for more information.
Orange
Tiny Terror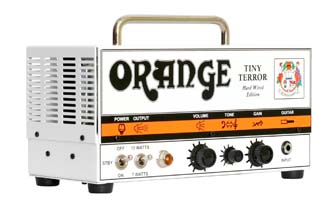 Orange's Tiny Terror amp has been a top seller for the U.K.-based manufacturer for several years, but the company realized it could squeeze a few more dollars from fans and collectors by making a hardwired, boutique edition with high-spec transformers, carbon-comp resistors, and limited-edition mustard capacitors. Orange claims this little terror creates more crunch and response than the original version via wider frequency response, more bite, and more punch. It offers the same lightweight portability in a unique lunch-box size, with the added benefit of weighing less than the original. Orange insists the hardwired Tiny Terror is not a production amp, and each one will be individually hand wired, tested, and quality checked at the U.K. headquarters, limiting the numbers available. The Tiny Terror retails for $1,344. Check www.orangeamps.com for details.
Dunlop
Kirk Hammett Wah Pedal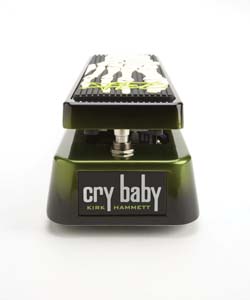 Dunlop's collaboration with Metallica's Kirk Hammett has hatched – what else? – the new Kirk Hammett signature Wah. After months of prototypes, this pedal has been meticulously tuned and tweaked to "deliver the wah-wah sound that revolutionized metal solos in the '80s," according to Dunlop. It recreates the legendary tone Hammett relies on when touring by emulating the EQ, volume, and tone settings of his rack wah and reproducing them with exceptional precision. The Kirk Hammett Wah offers great response as you move from heel to toe, with a thick top end full dynamic range. It will cost you about $265. Visit www.jimdunlop.com for more inf-ormation.
On Stage Gear
Click-It Guitar Strap
Reinventing the guitar strap is almost as difficult as reinventing the wheel, but Click-It Strap attempts to defy gravity with its lower price and ultra-strong, automotive seatbelt-quality nylon. The Click-It adjusts from 32 to 55 inches and features a secure quick-attach/quick-release clip. The female end of the clip remains secured to the guitar when the strap is not in use, but it will not interfere with the fit of molded cases. The list price is $16.99, and www.onstagestands.com has all the details.
– David Gedge