John Wesley Harding
Schubas, Chicago
Friday, April 10, 2009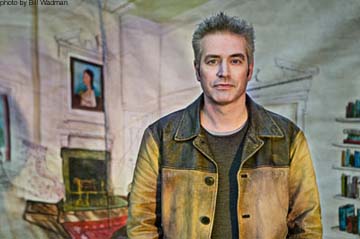 What's John Wesley Harding doing by returning to his stage name? After a fairly successful foray into literature under his birth name, Wesley Stace, he thinks he can just waltz back into music like we wouldn't notice? Well, we do. Stace.
Harding/Stace's lyrics have always been as interesting a read as his music has been to hear, so maybe we'll welcome him back. Who Was Changed And Who Was Dead (Popover Corps) not only finds him back in rock mode, but backed by The Minus Five. The presence of Scott McCaughey and Peter Buck doesn't turn Changed into an R.E.M. exercise, however, and Harding's sneer ("My Favorite Angel," "The End") reminds you that those Elvis Costello, Nick Lowe, and Billy Bragg comparisons still hold up. Harding still has one foot out the door, though: The album title is a reference to a 1955 Barbara Comyns book.
Friday's show is billed as "Wes & Eugene's Cabinet Of Wonders," a variety show featuring Harding, comedian Eugene Mirman ("Flight Of The Conchords"), and a "cast of thousands" that has borrowed The Decemberists' Colin Meloy, Tanya Donnelly, Jill Sobule, and more along the way.
It is also a separate, earlier performance than Damien Jurado at 10:30 p.m.
— Steve Forstneger
Category: Stage Buzz, Weekly