International Pop Overthrow 09
April 16 – 26, 2009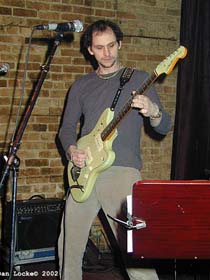 International Pop Overthrow, the globe-trotting celebration of power pop music, returns for its ninth year in Chicago. Named after a song by Material Issue, the festival kicks off with an eight-band showcase April 16th at Abbey Pub, which seems to be a favorite venue of organizer David Bash. Running each day until closing night at Bird's Nest on the 25th, IPO offers more multi-act gigs at The Abbey and Bird's Nest, as well as at The Spot and Red Line Tap. As usual, there are no superstars involved, though many of the participants are well-known to power-pop fans.
92 Degrees — who along with The Idea and The Critics, were the only Chicago acts on hand when the initial IPO took place in L.A. back in 1998 — are scheduled for a daytime April 25th showcase that  also features power-pop veterans The Ringles. The Idea (4/24, Red Line Tap) will be represented by founding member Phil Angotti, who's part of a particularly impressive lineup that includes Swinger, The Webstirs, The Valley Downs, and Ted Ansani Project, led by the former Material Issue bassist. 
Some of the scheduled acts don't perfectly fit the power-pop label. The Luck Of Eden Hall (4/16, Abbey), back from a 10-year hiatus, take a more hard-hitting approach. Zerostars (4/18, The Spot) are almost as wacky as they are catchy, and Hollus (4/25, Abbey) tends more toward a classic rock sound a la early Rod Stewart. The Bad Examples (4/17, Abbey), who meld power pop with rock behind lead vocalist Ralph Covert (Ralph's World), are part of a strong bill that includes The Handcuffs, the latest collaboration from wry drummer Brad Elvis and charismatic lead vocalist Chloe F. Orwell.
The English band Anison, along with Milwaukee-based The Lackloves (4/18, The Spot) and Iowa natives Make This City (4/21, Abbey) underscore Bash's mission to offer out-of-town talent. The IPO 2009 schedule lists several unfamiliar names (Wild Bores, Brown Line Fiasco), but part of the fun of International Pop Overthrow is the opportunity to discover new favorites. 
Click here for the full schedule.
 — Terrence Flamm
Category: Stage Buzz, Weekly