Wolfy
Elbo Room, Chicago
Tuesday, March 3, 2009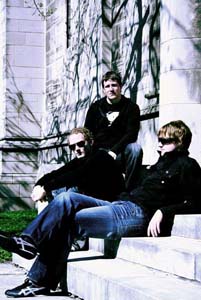 Wolfy's members aren't French. Far from it, actually. They're from Indianapolis. But neirth their home city nor country seems to have had the biggest influence on the band: It's France.
At least that's what the group's press sheet, designed like a Spin magazine cover, says. "France Changed Everything," it proclaims in big, white letters. It's hard to tell what France changed (frontman Greg Johnson took a trip there in 2006) musically, as Wolfy's wispy, chamber pop sounds closer to Scots Snow Patrol or Englishmen Keane than any freedom-hatin' Frenchies we can think of. Obviously, the country, and specifically Saint Émilion, had an impact, though. Enough so that not only did Wolfy name its 2008 album after the commune (located in southwestern France), its publishing — St. Emilion — also pays homage and the band plugged Saint Émilion's tourism Web site in its album artwork. These guys are going to shit bricks when they find out Indy was designed by Alexander Ralston, who was once an assistant to famous French-born architect Pierre L'Enfant. Thanks again, Wikipedia.
Wolfy and Kelli Ruddick open for The Wreckage.
— Trevor Fisher
Category: Stage Buzz, Weekly