These Arms Are Snakes, All The Saints
Subterranean, Chicago
Saturday, February 28, 2009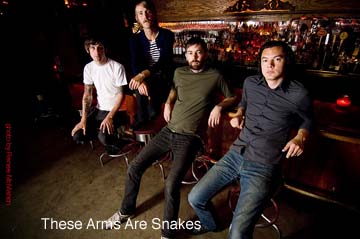 Predictability's not the first thing you look for in post hardcore bands, and it seems to have hit home with Seattle's typically flailing These Arms Are Snakes.
On their third album since staggering out of math rock's final calculations, all the signature elements are in place (crisscrossing guitar lines, angst spasms, crowded rhythmic meters), building and releasing, building and releasing. Release seems to be a favorite topic of Tail Swallower & Dove (Suicide Squeeze), as the comedowns last a little longer than on past efforts. Opener "Woolen Heirs" breaks this ice quickly, slipping in some tribal chants with its underwater pulses. That it's underpinned by a menacing, palm-muted power chord isn't the point – TAAS are searching for ways out of their niche surreptitiously. "Seven Chords" sounds like Love's "7 And 7 Is" stuck in mud, "Long And Lonely Step" gets its insides flanged out, and the chiming intro to "Briggs" adds a creepiness that's enhanced if you imagine the lyrics are about the Bears' linebacker. Extract the more obtuse lyrical passages ("Red Line Season" is a mess), and TAAS could be guilty of having a vision for themselves instead of a role.
It's not our duty to take mercy on bands, but seeing how All The Saints' label has taken its toys out of the sandbox, they could use a hug. Maybe they could use some hair gel. Last year's Fire On Corridor X (Touch And Go) is like a crab-grassy colic — you can't keep it down for long. There are gloomy acoustic passages ("Leeds"), organ-laced hallucinations ("Hornett"), and the cavernous pressure applied by closer "Mil Mil," but Corridor gets continually cleared by flamethrowing guitar tracks like "Regal Regalia" and the title track. Unlike the bluesmen who ventured to Chicago during the war, however, Touch And Go unfortunately have to send these Alabamans back.
Also appearing Sunday, March 1st, at The House in DeKalb. Darker My Love finish the bill.
— Steve Forstneger
Category: Stage Buzz, Weekly