Burn Halo
Allstate Arena, Rosemont
Friday, February 27, 2009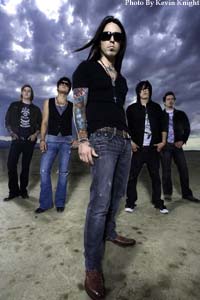 I swear (by the moon and the stars and the sky), swear, swear, swear, that when I was plotting the angle of this "Stage Buzz" while listening to Burn Halo's self-titled debut, I had no idea the group was opening for Avenged Sevenfold.
It's only worth mentioning because Former 18 Visions frontman James Hart badly wants Burn Halo to sound like Avenged Sevenfold, and in fact, if that band was influenced more by, say, Seether or Nickelback than Iron Maiden and Pantera, he would have succeeded. It's easy, and admittedly sometimes lazy, to tag one band a knockoff of another, but the similarities between Hart's bands and Sevenfold must be mentioned. Both 18 Visions and Avenged Sevenfold emerged from the Orange Country, California scene and started as metalcore bands. Though Sevenfold didn't release its debut, Sounding The Seventh Trumpet, until 2001 (whereas Visions had been around since the mid '90s), that album – metalcore with bits of clean vocals and memorable melody – obviously had an impact on Hart and his bandmates, as a year later they incorporated a similar sound on Vanity. Avenged Sevenfold countered with the even more melodic Waking The Fallen in 2003, and Visions did the same with the following year's Obsession, produced, oddly enough, by Mudrock, who also twiddled knobs on Waking The Fallen. Avenged Sevenfold picked up some buzz, got signed to a major label (Warner Bros.) and went straightahead metal on 2005's City Of Evil. Epic, maybe eager to have its own Avenged Sevenfold, scooped up Visions, who also decided to dump "core" on its self-titled, major-label debut, released a year after City Of Evil.
The only difference between the two was 18 Visions' lack of commercial success, which ultimately played into its breakup in '07, the same year Avenged Sevenfold released a self-titled record. Avenged Sevenfold was more hard rock than heavy metal, experimented with strings and production gadgetry, and even flirted with pop country. Probably just a crazy coincidence that Hart's new band also kicks out a couple fluffy pop country songs, too. Or that Hart often sounds just like Sevenfold's M. Shadows. Or that A7X guitarist Synyster Gates appears on two songs, for that matter.
Avenged Sevenfold and Buckcherry co-headline this show.
— Trevor Fisher
Category: Stage Buzz, Weekly