The Low Anthem
Oh My God, Charlie Darwin
(self-released)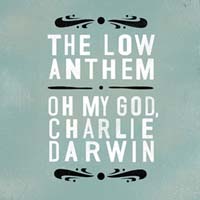 All three of Rhode Island's musicians joined forces three years ago, and after two albums containing a sweeping overview of Western civ, record three lands in time for Charles Darwin's 200th birthday.
Appearing: Saturday, February 28th at Martyrs' in Chicago.
O.K., only one of those bits is true, and it is the last, seemingly least-interesting one that holds water. But hearing how Ben Miller, Jeffrey Prystowsky, and Jocie Adams whisper life into opener "Charlie Darwin," they could draw their next album from the Smoot-Hawley tariff and we'd listen raptly. Before jumping too quickly to Fleet Foxes or Damien Jurado comparisons, however, The Low Anthem apply blasts of heat on the gut-bucket "The Horizon Is A Beltway," Tom Waits-penned "Home I'll Never Be," and the analog hiss of "Champion Angel." Overall, however, Oh My God, Charlie Darwin is a late-winter, empty Southern highway ride home with a dull headache. The clouds aren't quite thick enough to hide the sun's punishing glare, and the DJ is in the mood to play nothing but The Band. The other six Rhode Islanders aren't the only ones in awe, either.
8
— Steve Forstneger
Click here to stream Oh My God, Charlie Darwin.