Chicago Bluegrass & Blues Festival
Congress Theatre, Chicago
Saturday, November 22, 2008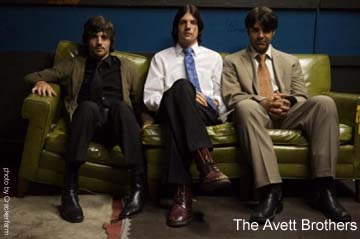 The 2008 Bluegrass & Blues Festival is neither bluegrass nor blues: discuss. Subtopic, the Saving Tiny Hearts Society benefits either way.
When Bill Monroe, Jimmy Martin, and them made bluegrass' rules a big deal, they set themselves up to be besieged by rebels — basically anyone who favored drums. On two stages over 12 hours on Saturday, this festival will show just how elastic those boundaries have become, so much so that fundamentalist bluegrass practitioners will be in the minority.
Atop the bill, The Avett Brothers' rockist tendencies and David Grisman Quintet's ceaseless wandering underscore just how there-are-no-rules-dude CBGB plans to be. Bloodshot Records appropriately brings delegates, represented by Ha Ha Tonka and Dollar Store, and Lil' Ed & The Blues Imperials satisfy the "Blues" avenue in the event's name.
Doors open at 11 a.m. and, even though there's not much in the neighborhood to duck out to, there's unlimited re-entry until 5 p.m. and a smoking lounge access without leaving the theater. Portions of ticket sales go to Saving Tiny Hearts Society, which raises money to study congenital heart defects, which plague 1 in 125 newborns.
For a full schedule, visit www.cbgbfestival.com.
— Steve Forstneger
Category: Stage Buzz, Weekly