Lordi
House Of Blues, Chicago
Saturday, November 22, 2008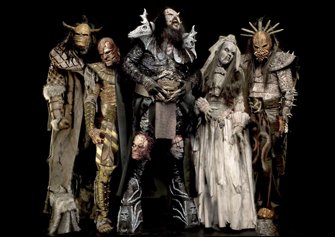 Let us tell you how much cooler Finland is than the United States (notice I said "cooler," not tougher, or more patriotic, or more armed or anything — so please no "Love it or leave it" e-mails"): Here, we mock, or in the least, dismiss costumed/masked bands like Lordi as novelty acts. Finland? They produce official Lordi credit cards, postage stamps, soft drinks, candy, and restaurants.
Yeah, five guys wearing elaborate foam-latex monster outfits, led by a dude named Mr. Lordi, and singing songs about cannibalism are worshiped by the Finnish! We aren't saying that facetiously, either – totally awesome. How did it happen? Somehow, someway, the band won the 2006 Eurovision Award, an annual battle of the bands, if you will, among member countries of the European Broadcasting Union. Basically each participating country chooses one musical act, who perform a song on the televised program and get voted on. Finland, a country that had never won the contest (which began in 1956) said "fuck it" in 2006 and sent Lordi as its representative. The group's "Hard Rock Hallelujah" ended up winning (prior victorious acts include ABBA and Celine Dion) with a record 292 points, and boom – national goddamn heroes!
We Americans were basically introduced to the group via 2006's The Arockalypse, but Lordi have been releasing albums in Europe since the early part of the decade. Their most recent, Deadache (The End), isn't as gloriously anthemic as Arockalypse (hard to compete with gems like "The Chainsaw Buffet," "Would You Love A Monsterman," and "We're The Kids Who Wanna Play With The Dead," though), but that's all we're saying: Who knows what kind of horrendous punishment the Finnish dish out for belittling their beloved Monster Men.
— Trevor Fisher
Category: Stage Buzz, Weekly