Dressy Bessy
Bottom Lounge, Chicago
Monday, September 22, 2008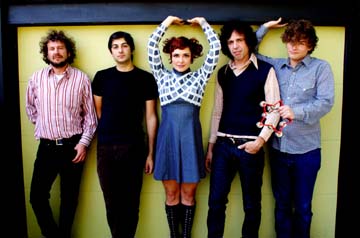 Being "associated" with the Elephant 6 collective doesn't carry the same weight it used to. Shit, IE were at a coffee shop in Denver waiting in line for a scone when who turns away from the cash register with a caramel, cream-blended frappuccino? Elephant 6 cofounder Robert Schneider. Because we were whistling a tune at the time, we showed up the next day on the Elephant 6's Wikipedia page under "other notable bands and side projects." Of course, we were removed the next day when it was reported the whistled song in question was L.A. Guns' "The Ballad Of Jayne."
Dressy Bessy has a valid connection, though. After all, guitarist John Hill is a longstanding member of The Apples In Stereo, the Schneider-led band that, along with Neutral Milk Hotel and The Olivia Tremor Control, spawned the whole E6 thing. Despite his credentials, Hill isn't Dressy Bessy's star. That's Tammy Ealom, who is not only the Denver group's voice, but also its vanguard. Her credits on the band's incredibly catchy indie pop gem, Holler And Stomp (September 30th, Transdreamer) include vocals, guitar, percussion, keyboards, sole songwriter, co-producer, and artwork/layout designer.
Seems like Ealom should have her own collective. We'll get the Wikipedia page ready.
Le Concorde, The Coast, and Tiny Speakers open.
— Trevor Fisher
Category: Stage Buzz, Weekly