Sian Alice Group
Empty Bottle, Chicago
Sunday, September 21, 2008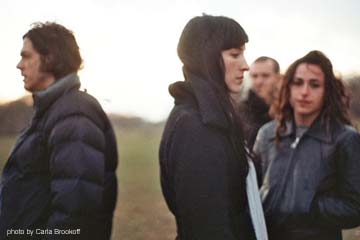 American alt-rocker Ryan Adams refuses (or is merely just unable) to self-edit. Just because you wrote 15 songs for a particular album, doesn't mean the general public needs to hear the lot of them. Save the filler for the box set, please.
U.K.-based Sian Alice Group seems to possess a touch of the affliction plaguing our good friend Adams. On its debut full-length, 59.59 (Social Registry), the band — fronted by Sian Alice Ahern herself — populates the 16-track sequencing with interludes (actual instrumentals named "Interlude 7'35″" and on and on) that meander forth (albeit pleasantly, that is if you're watching the opening credits of a film on IFC) but make no real impression. Cut the album in half and the foursome (including Rupert Clervaux on drums, keys; Ben Crook on guitar and bass; Sasha Vine on violin and accordion) could boast a nice, succinct EP.
Ahern's vocals conjure images of airy fairies frolicking among dew-glazed blades of grass, except these winged creatures hide subtle fangs beneath their precious lips. "Way Down To Heaven" sustains a chugging Radiohead riff throughout three-plus minutes of mischief while "Kirilov" proffers a gothic lullaby for the heavyhearted. "Heartless" utilizes nimble guitar work similar to that of former Frames axeman Dave Odlum, which made For The Birds the best Irish release of 2001.
A Place To Bury Strangers and Disappear also perform.
— Janine Schaults
Click here to download "Motionless."
Category: Stage Buzz, Weekly