Hideout Block Party
Hideout, Chicago
September 20-21, 2008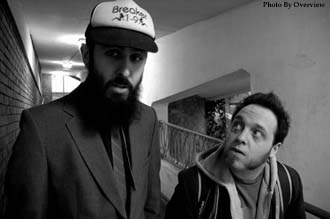 People take Pitchfork Media album reviews very seriously. Very seriously. If today's indie rockers are modern-day gladiators battling for fame and acclaim in the arena, that Web site wields the power with its 1-through-10 scale to make them heroes or remove their heads. Careers are made out of a 7.5 Pitchfork review because readers treat them like the Ten Commandments: Thou shall not listen to anything 5.0 or less.
British hip-hop duo Dan Le Sac Vs Scroobius Pip's debut, Angles, "earned" a 0.2. For the mathematically challenged, that's less than one. The reviewer deemed Angles (released in the States on Sage Francis' Strange Famous Records) so lousy and despicable it didn't even deserve a whole point. "One of the most musically bankrupt and altogether philosophically fucked albums you'd be wise enough to avoid this year or any," the writer said. It's not the best album of the year (certainly not the worst, either), but a 0.2? How do you even come up with such a number?
The something-like-8-bagillion views the group's (Pip is the rapper, Le Sac the producer) video for "Thou Shalt Always Kill" was apparently more important than the Pitchfork rating for Hideout Block Party promoters, though, because they threw the duo on Saturday's lineup anyway, right between Little Cow and Plastic People Of The Universe. If it's Pitchfork-approved audio you crave, though, Monotonix scored a respectable 6.7 earlier this summer for Body Language, and Black Mountain notched a 7.4 back in January for In The Future. The evening's headliner, Neko Case, is consistently 7.2 or better. We only give Hideout a 4.7 for capping the Sunday session with a Hercules And Love Affair DJ set instead of, say, New Pornographers (who play at 7:30), but an 8.9 for booking Rhymefest (6:45) and pairing ageless Chicago bluesman David "Honeyboy" Edwards with local roots renegades Devil In A Woodpile.
Weekend passes ($45) and single-day tickets ($25) as well as a full schedule are available at www.hideoutblockparty.com.
— Trevor Fisher
Click here to watch the video for Dan Le Sac Vs Scroobius Pip's "Thou Shalt Always Kill."
Click here to download Devil In A Woodpile's "Shake It And Break It."
Category: Stage Buzz, Weekly