The Walkmen
Metro, Chicago
Friday, September 12, 2008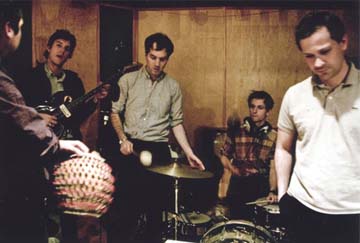 After critics wrote off their third album, A Hundred Miles Off, The Walkmen returned to the Metro, heads high, on Friday to rearrange the room. Armed with a more immediately rewarding album in You & Me (Gigantic), the New Yorkers alternately teased, punched, and hyper-extended themselves to their fans' delight.
Walkmen albums, when derided, get easily condensed as "two and out," as in a pair of frayed-nerve gems ("Wake Up" and "We've Been Had," "The Rat" and "Little House Of Savages," "All Hands And The Cook" and, um . . .) surrounded by the sound of the band recording in the dark. But You & Me effectively fuses their outre hooks, walls-clawing tension, and flashlight exploration into a rising and semi-nauseating thrill ride, doubling as the soundtrack to frontman Hamilton Leithauser's drunken yacht-harbor raids.
Had they played the new album straight through, the muggy Metro would have been treated to an epic shanty, powered by the carnivalesque organ runs on "In The New Year," the mournful brass cries of "Red Moon," and the unsettled speeding and slowing of "New Country." As they were, those songs played a role in The Walkmen poking holes in their boundaries and peering through. But they were dunked into the band's whole body of work and brought to life as they wended around the murky "What's In It For Me" and cleared a path for the jaunty anomaly of "Wake Up."
If "The Rat" was narrowly purposed to pound through the door, "I Lost You" stormed down the lanyard, hoisted the portcullis, and finally unleashed a fusillade. Paul Maroon sculpted his heavily reverbed guitar chords to mesh perfectly with the brass on "Canadian Girl," which formed a celebratory camaraderie with the vaguely piña-colada tropicalia of "Louisiana."
No matter the song, however, the band's static stage presence was continually foiled by Leithauser — whose vocals on "Little House Of Savages," "On The Water," "In The New Year," and "All Hands And The Cook" suggest he's unconvinced his range ends where it does — who would fling his torso backward at the waist and let fly. With all the room The Walkmen have bought themselves on You & Me, who can blame him for wanting to make the most of it?
— Steve Forstneger
Category: Live Reviews, Weekly