Journey, Heart, Cheap Trick
First Midwest Bank Amphitheatre, Tinley Park
Friday, September 12, 2008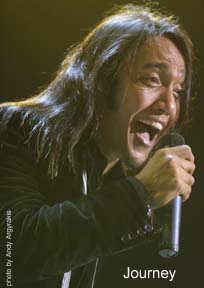 New album, new tour, new singer. Does that cycle sound familiar for those faithfully following Journey? For those living under a rock, Steve Perry is long gone, his replacement, Steve Augeri, is out after vocal damage, Jeff Scott Soto was just his temporary fill-in, and these days Arnel Pineda is at the microphone.
It's a peculiar choice considering the virtually unknown Filipino singer was plucked off You Tube (especially considering folks like Kevin Chalfant of Chicago's The Storm and John Waite of Bad English have played with several Journey members), though this third (or technically fourth) time has thus far seemed to be the charm.
Not only does the band's latest disc, Revelation, hearken back to the band's early-'80s staples Frontiers and Escape, but it sold 107,000 copies during street week and landed at No. 5 on the Billboard 200. Though casual listeners probably came to this concert for only the hits, Journey expanded beyond a rote jukebox, ditching the paint-by-numbers setlist for a balance of old, new, and a few less-obvious album cuts.
In fact, the new frontman, guitarist Neal Schon, bassist Ross Valory, keyboardist/guitarist Jonathan Cain, and drummer Deen Castronovo were so confident in the new songs they jumped right into the arena rocker "Never Walk Away," which wasn't quite as contagious as its follow-up, "Only the Young," but still demonstrated the renewed spirit. After dusting off the older "Stone In Love" and "Ask The Lonely," it was back to the current for the Bic-flicking ballad "After All These Years" and a jam through "Change For the Better," which evoked Schon's early roots in Santana.
Journey dove much deeper in its annals to recall the psychedelic leanings of "Feeling That Way" and "Anytime," with Cain adequately handling vocals and keyboards (originally tackled by Gregg Rolie, also of Santana and The Storm). Considering the South Suburban venue, the Chicago White Sox's World Series theme "Don't Stop Believin'" felt right at home, as did retro rockers "Wheel In The Sky" and "Lovin', Touchin', Squeezin'," which these days is a bluesy brawler that tapped off a set from a band that that appeared glad to be back.
Fresh off a cease-and-desist order against the Republican Party for unauthorized use of "Barracuda," Heart channeled that pent-up frustration into one of its most rollicking sets in recent memory. Sister act Ann and Nancy Wilson charged out of the gate with "Magic Man" and "Never," demonstrating an invigorated attitude possibly triggered from a recent resurgence through the "Guitar Hero" video game.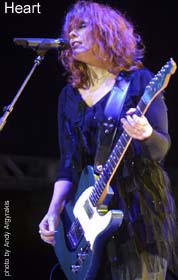 The pair and their backers wisely stuck to only two ballads (stripped-down versions of "These Dreams" and "Alone") avoiding all the painfully dated '80s and '90s mush. A true-to-form cover of The Who's lengthy "Love, Reign O'er Me" gallantly filled in those gaps, while "Crazy On You" made a case for status among rock 'n' roll classics.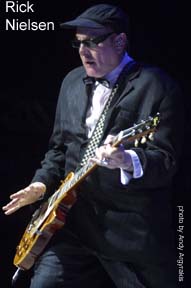 Those who braved rush-hour traffic to catch Cheap Trick's homecoming set were also treated to a lightning fast set of the band's well-preserved power pop. Though it's hard to cram 36 years into 45 minutes, the local legends addressed all the main hits with a little help from Cain on keyboards for "The Flame" and several others during the second half of its set. The foursome also seared through "I Want You To Want Me," "I Can't Take It," "Surrender," and "Dream Police," all of which steered the ship toward the evening's sing-along spirit.
— Andy Argyrakis
Category: Live Reviews, Weekly