Gemma Hayes
The Hollow Of Morning
(Second Motion)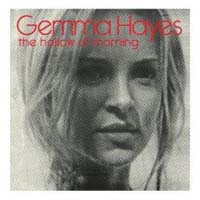 Former Mercury Prize nominee Gemma Hayes remains scared of her own voice, though she can't hide from a number of flaws on her third album.
Appearing: Monday, September 29th at Schubas in Chicago.
Producer Dave Fridmann and Irish starlet Hayes conspired behind one of the decade's more mesmerizing vocal takes on 2001's "4.35 am" — its layering is pristine and sublime — and since then she has erred on the side of underusing it. Keeping to her plan, The Hollow Of Morning begins groggily on "This Is What You Do" and then hushed under some My Bloody Valentine-derived dynamics on "Out Of Or Hands." It drives you to seek bargains in the lyric book, which is equally frustrating. Hung up on something lost (a man, a friend, someone dear) she's all repetition and hoary cliché. There's also a fascination with light, as the album title implies, though she can't settle on a tack. On "Chasing Dragons," "The morning has no sympathy/It screams across the room," yet the following track treats it like an old friend ("Don't forget, the light never left") before wondering where it went just one song later ("Where's the light now/you've only got the shade"). It's a minor quibble on a record full of them; perhaps "4.35 am" was too early for everyone.
3
— Steve Forstneger