Mates Of State, Low Vs Diamond
House Of Blues, Chicago
Sunday, September 28, 2008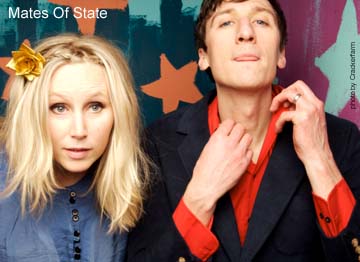 It's difficult to decide which is cuter: Mates Of State's latest release, Re-arrange Us (Barsuk), or the husband-and-wife duo's blog, "Band On The Diaper Run."
Written mostly by Kori Gardner, the blog focuses on the indie band's life on the road with two adorable daughters under age 5. Relentless touring for Mates Of State is a family affair, and Gardner documents in words and pictures this hectic, globe-trotting lifestyle she and husband Jason Hammel have chosen for their brood.
The Connecticut-based duo approach their fifth full-length album as changed individuals (putting down roots in the suburbs and popping out a few kids will do that to a couple), and the 10 tracks display a decidedly more mature attitude. Gardner eschews her trademark organ for the piano while Hammel takes on the trap kit with subtler aplomb than in the past. The kinder, gentler Mates Of State may ruffle the feathers of longtime fans, but the angular title track and the epic "Blue And Gold Print" warm the cockles of the most staid heart.
Los Angeles-based Low Vs Diamond expertly mix the glam of The Killers and the art school cool of Franz Ferdinand on the band's self-titled Red Ink release. Lucas Field fronts the quintet with a sensitive swagger, most notably on the pulsating "Heart Attack" and the churning "Don't Forget Sister." "Wasted" delves deeper into the band's predilection for British sounds, incorporating both Muse and The Cure into the mix.
Santogold headlines.
— Janine Schaults
Click here to download Mates Of States' "My Only Offer."
Category: Stage Buzz, Weekly