Helloween, Gamma Ray
Pearl Room, Mokena
Saturday, September 27, 2008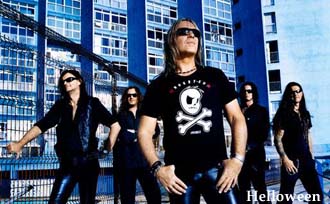 The Helloween/Gamma Ray "Hellish Rock 2007/2008" tour won't go down in heavy metal history with the infamous Metallica and Guns N' Roses matchup or the American, Slayer/Megadeth/Anthrax Clash Of The Titans trek, but it's pretty close for power metal geeks.
It only makes sense the two bands would eventually hook up for something like this, given their tightly intertwined histories. If you possess only a passing knowledge of power metal, Helloween is the more recognizable name of the two German acts; an argument can be made its 1987 album, Keeper Of The Seven Keys, Part 1 , is the most influential power metal album ever. But guess who wrote a majority of that record? Gamma Ray frontman/guitarist Kai Hansen, a founding member of Helloween, its very first singer (gave up vocal duty prior to Keeper to concentrate solely on guitar), and chief songwriter until he left in 1989 and formed Gamma Ray.
Though Hansen and Gamma Ray never truly emerged from Helloween's shadow, the band made its own significant contribution to the genre in the form of 1995's excellent Land Of The Free. The idea of Hansen, the man who abandoned Helloween at its peak, and Gamma Ray touring with his old band might seem weird, but the fact is he has never been on bad terms with remaining Helloween originals Michael Weikath and Markus Grosskopf. Plus, the two now share a record label home (SPV/Steamhammer) and released new albums (Helloween's Gambling With The Devil and Gamma's Land Of The Free II) within half a month of each other last year. Spoiler alert if you're going to the show: You can even expect to see Hansen join his former bandmates at the end of the night for a few Helloween classics.
Axxis and Ion Vein open.
— Trevor Fisher
Click here to download Helloween's "As Long As I Fall" music video.
Click here to download Gamma Ray's "Leaving Hell."
Category: Stage Buzz, Weekly