Amy Macdonald
Subterranean, Chicago
Thursday, September 25, 2008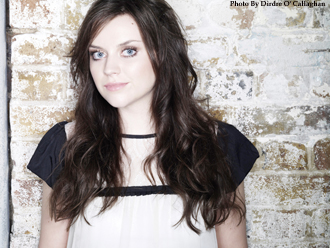 Everything about Amy Macdonald's This Is The Life cover art says mopey, heart-on-her-sleeve, "see me next week at Lava Joe's Coffeehouse," from her casual downward glance away from the camera to the acoustic guitar she leans on to the the digitally frayed picture borders. Don't judge an album by crappy artwork, though.
Macdonald writes songs (every one of the album's 10 minus one, which was co-written with producer Pete Wilkinson) far beyond the assumed capacities of a 21-year-old. Who knows? Maybe Macdonald labored endlessly crafting the hooks and melodies of "Poison Prince," "Mr Rock & Roll," and "Barrowland Ballroom," but they sound as natural as breathing for the Scottish singer-songwriter. Best of all there's some substance behind that sweet voice as the songbird defends her generation, Who-style, on "Youth Of Today" and ridicules celebrity worship (and reality-show stardom) on "Footballer's Wife" ("And the girl from that show/Yes the one we all know/She thinks she's some kinda star") and "L.A." Though, to be fair, the latter was inspired by her own schoolgirl crush on Jake Gyllenhall, proving Macdonald hasn't completely grown up, despite the maturity of her music.
La Rocca opens.
— Trevor Fisher
Category: Stage Buzz, Weekly