Damien Jurado
Schubas, Chicago
Thursday, September 25, 2008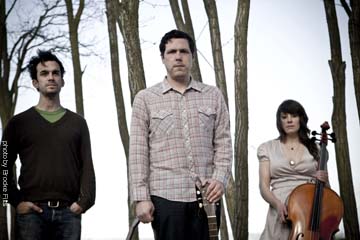 Through nine albums in 11 years, Damien Jurado has tinkered with his musical aesthetics (morose folk, jangle pop, jagged rock) while habitually creating character sketches for potential Coen Brothers films. This year's Caught In The Trees, however, traps the screenwriter into his own plot.
In 2003, he joked to IE, "There's nothing that fels better than to finish a set and just depress the hell out of an audience. I feel like, 'Wow! Man, I feel great!'" (He had started looking great, too: Last fall's Okkervil River tour revealed a distinct lack of pudge.) But apparently something was up. You could always imagine some of his songs were autobiographical, but knew to separate Jurado from characters who dreamt of euthanising sick relatives or who drooled over teen girls from afar.
Trees changes that, dealing with raw wounds regarding personal and interpersonal meltdowns, with startling directness. "Coats Of Ice" confronts his career's productivity ("They're making requests for songs you've never played/How does it feel to be what you sing about?"), and his failing marriage goes under the knife on a number of tracks, particularly "Everything Trying" ("I would come back and admit that it wasn't your fault/But I'm tired and unwilling to be the only one who was wrong"). It's an approach he might've gleaned from old tour partner David Bazan (Pedro The Lion), who specialized in reopening emotional sores and battling stubborn attachments while Jurado catalogued his drifters.
Making the new album's transition more palatable is a singing partnership with Jenna Conrad, whose Mimi Parker-ish solemnity fits better than Rosie Thomas' folksiness did in the past. Even on the flailing "Go First," her textural support grows into something of a harmonic backbone, allowing Jurado's vocal to sound more untethered than his skill can manage on its own. He was doubtlessly near shambles when sculpting Trees, but by being so close to the flame you get the sense Jurado has more appreciation for its power.
Miles Benjamin Anthony Robinson opens.
— Steve Forstneger
Click here to download "Gillian Was A Horse."
Category: Stage Buzz, Weekly