Vince Gill
Rialto Square Theatre, Joliet
Thursday, September 18, 2008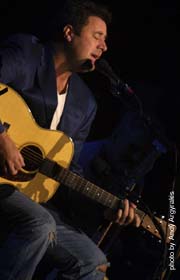 Even before Vince Gill took the stage at the ornate Rialto Square, it appeared the evening would be a lot more stripped back than his usual trips through auditoriums and arenas. The country/bluegrass/blue-eyed soul crooner may have had plenty of guitars stacked up, but many of them were acoustic, while there wasn't a drum kit or brass section in sight.
It was certainly a change of pace from the first leg of a tour behind the four-disc, Grammy-winning opus These Days (2008's Grammy winner for "Best Country Album"), which featured a 17-piece band to highlight the collection's "Rockin,'" "Groovy," "Country & Western," and "Acoustic" sides. Upon Gill's arrival, he joked those backers simply cost too much money, plus he'd rather tell stories this round than worry about a massive production.
His seated presence and the sparse accompaniment (percussionist, stand-up bassist, and keyboardist) generally worked to the veteran troubadour's advantage. Gill declared an immediate affinity for the venue when introducing the earthy ballad "I Still Believe In You," backed by a music video filmed across the venue's elegant foyer and seating area. After that early moment of déjà vu, Gill explained the meaning behind his smash "Pretty Little Adriana," which was about a drive-by shooting near his Tennessee home that was recently solved.
But moments of poignancy soon turned to humor, which is also one of the strengths he frequently carries into hosting gigs at country music award shows. He teased it's "a ton of pressure" being married to fellow superstar Amy Grant, suggested to never have Giordano's deep dish — just before jumping on stage, and casually played off fans screaming requests after every song.
Gill did frequently entertain the random whims of fans, including the rarely performed Tex-Mex album cut "We Had It All" (off 2003's Next Big Thing) and the Eagles-inspired country pop of "Falling In And Out Of Love" (referencing time in the Pure Prairie League, even though he wasn't the original vocalist on that track). From These Days, "The Reason Why" (first sung with Alison Krauss) swung with a soulful groove, while also serving as a chance for Gill to channel Willie Nelson during a third-verse parody.
Despite the charm from the storytellers aura, some of the set's selections felt half-baked in the pared-down contexts, most notably the new "Buttermilk John." The electric blues cut would've likely ripped in full-band settings and might have highlighted some of the furious finger picking Gill delivered at last year's Eric Clapton-curated Crossroads Guitar Festival. The same could be said about his sarcastic Rodney Crowell co-write, "It's Hard To Kiss The Lips That Chew Your Ass Out All Day Long," and the concert staple "Liza Jane," which came across particularly feeble.
But what lacked in electricity was supplemented by additional introspection that found Gill especially impressive in the lyrical department. The recent "What You Give Away" spoke of leaving behind a compassionate legacy, while the unreleased finale "Heaven" (co-written with Grant) sought peace in a loved one's passing. Indeed, Gill was equally at home singing about hope and healing as he was honky tonks and heartbreaks, which, coupled with his varied stylistic palette, continue to make his "country" label just a casual reference to his otherwise loaded arsenal.
— Andy Argyrakis
Category: Live Reviews, Weekly