Jessica Lea Mayfield
With Blasphemy So Heartfelt
(Polymer)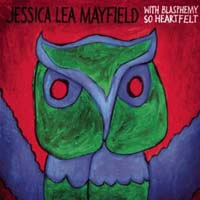 It's easy to imagine Jessica Lea Mayfield standing at a party and watching a date whom she hates or a boyfriend she's about to break up with — and penning her debut in her head.
Appearing: Tuesday, October 28th at Abbey Pub in Chicago.
What isn't so easy to imagine is how this Ohioan (not a relative of R&B-legend Curtis, nor a labelmate of Spinal Tap) arrived at such a Mazzy Star-on-an-empty-highway feel. With The Black Keys' Dan Auerbach at the production helm, Mayfield sounds caught in film noir, mapping out and revising a scene whereby she either throws her drink at ("We've Never Lied"), nustles her butt into ("The One That I Love Best"), or goes home and has cold, cheap sex with her lover because there's nothing better to do ("Kiss Me Again"). Mayfield's curling drawl adds more ambiguity to her intentions than her lyrics ever could, stirring With Blasphemy So Heartfelt's emotions like so many tannins in a wine glass.
7
— Steve Forstneger