Fender Guitars
Billy Corgan Stratocaster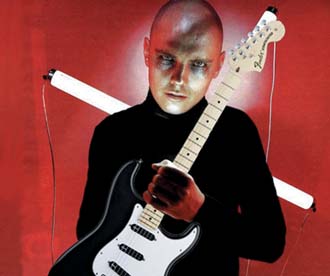 Fender's new Billy Corgan Stratocaster was co-designed by the company and Corgan to accommodate the head Pumpkin's need for a versatile Strat. "My greatest go-to guitar got stolen at a Pumpkins club date in 1991 or something like that [Club Avalon on Belmont?], and I've never seen it since," Corgan told Fender News. "And I've always struggled since then to find a guitar that was like my guitar. I'm really pleased with this model's versatility, which I need because I'm playing music from a 17-year period of the Pumpkins' history – from spacey early stuff to grunge to all-out cyber metal, then back to ballads." With a musical legacy that dates nearly two decades, the timing of this guitar is right: We can't imagine Billy Corgan circa 1998 going for a model with his name on it. Retail is $1,599, and it's available in black or white. Visit www.fender.com for details.
Zildjian
Pitch Black Series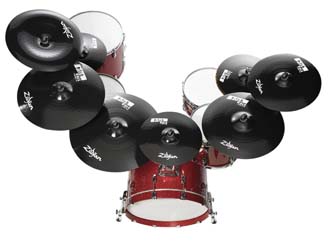 None more black. It's hard to believe, but Zildjian announced its first-ever color-coated cymbals, the Pitch Black Series. Weren't colored accessories big 10 years ago when the first iMacs came out? Evidently Zildjian didn't like the sound of various color prototypes – until now. Pitch Black cymbals are available in a full range of sizes and models and are designed specifically for rock and metal applications. The series features eight models including a 22-inch ride, 20-inch crash ride, 18- and 16-inch crashes, 13-inch splash, 15-inch Mastersound hi-hat, 14-inch hi-hats, and an 18-inch China – all made from high-performance bronze-12 alloy. Prices start at $153. Visit www.zildjian.com for more information.
RØDE
M2 Condenser Microphone
Røde Microphones promise their new M2 condenser mic is safe to use in live applications, though "condenser" mic usually conjures images of a dainty-and-delicate studio microphone. According to Røde President Peter Freedman, soundmen "have been hesitant to use condenser microphones for live applications due to their fragile nature and their susceptibility to feedback. I wanted to change that perception." Spoken like a true German sound engineer. Price for the M2 wasn't available at press time, but you can learn more at www.rodemic.com.
MixMeister
Mixmeister Scratch
Mixmeister's new Mixmeister Scratch, the "first" DJ program for iPhone, iPhone 3G, and iPod Touch, enables users to scratch anywhere and anytime, regardless of DJ experience or technique. Mixmeister claim the program is user-friendly by enabling users to scratch on top of any song in their iPhone or iPod Touch. Getting started, according to Mixmeister, is as easy as playing a song in your mobile digital device and "selecting a scratch to fit your imagination and creativity." A collection of vinyl scratch sounds is included, and "DJs" can also adjust the volume of music in real time using the touch interface. The application has been fully approved by Apple and can be downloaded free from the iTunes Application Store. Check out www.mixmeister.com for more information, a demonstration video, and a direct link to the iTunes download.
– David Gedge