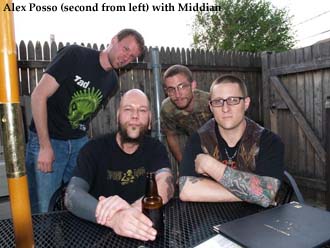 Metal Haven is undoubtedly the most metal establishment in Chicagoland. They're just missing one thing: Really fucking good burgers.
Burgers like the Black Sabbath (blackening spice, chili, pepper jack, and red onion), the Iron Maiden (smoked gouda, bacon, roasted red peppers, and roasted garlic mayo), the High On Fire (Sriracha hot chili sauce, prosciutto, roasted red pepper, grilled pineapple, and sweet chili paste), and the Slayer – a pile of fries topped with a half-pound burger, chili, cherry peppers, andouille, onions, jack cheese, and, of course, anger.
And there's more: Pantera, Neurosis, Metallica, Judas Priest, and Mayhem, to name a few. In fact, every single burger and sandwich at Kuma's Corner (2900 W. Belmont), sans the "Kuma Burger," is named for a heavy metal band.
But just because every burger is named for a heavy metal band doesn't mean any heavy metal band qualifies.
"I've got to like the band," managing partner Alex Posso says without hesitation, obviously prepared for the question from the time we start talking. Posso has been the restaurant's manager since it opened (as a slightly more upscale bistro) in 2005 and, in almost every case, makes the ultimate "burger-worthy" judgement.
"YOB was probably the first one," he recalls, "and then Black Sabbath, and all the bands that deserve it to me. It's paying respect to the people who deserve it."
Lair Of The Minotaur (see page 26) are one of the bands who have earned an illustrious spot on Kuma's menu. Their caramelized onions, pancetta, brie, and bourbon-soaked pears patty was actually a monthly special (Posso's way of honoring even more bands without expanding his already bloated 25-plus burger list) earlier this year, just about the time War Metal Battle Master came out, but ended up on the full-time roster because it sold well and, Posso admits, LOTM are "one of the best bands I've heard in my life."
"We were pretty honored," Minotaur frontman/guitarist Steve Rathbone says. "Definitely, the names of bands that have burgers there, we're humbled to be in company with them."
In just a few short years (Kuma's celebrate a third anniversary this month with their own music fest) the tiny restaurant has become an institution for Chicago metalheads as well as a point of intrigue for headbangers worldwide.
Bands with their own burgers, like Mastodon, don't eat anywhere but Kuma's when in Chicago, while the burgerless, like Testament, have their management hounding Posso. Pelican guitarist Laurent Lebec told Posso that during a festival in Finland earlier this year, recently reunited Swedish death metal giants At The Gates questioned Pelican about Kuma's after discovering their Chicago roots. In response, Posso and crew rolled out the red carpet for ATG when they came to town last month, closing the restaurant for a day and letting the Swedes, and openers Municipal Waste, have full run of the joint.
It's this kind of dedication to heavy music, both on a local and national scene, that has made Kuma's the place for metal fans and musicians to assemble in Chicago. It's about time, Rathbone says.
"Alex is amazing," the LOTM frontman gushes. "He's just what we needed around here in Chicago, a place like that. It's a metal bar, you know, and we're in dire need of it."
Obviously. Slow nights don't exist here, where a 60-minute wait to sit is considered short (a second location is in the works) and cooks prepare food for at least 500 people every day, Posso estimates.
"Sundays we open at noon, and before we open the doors it looks like a general admission concert for The Who," says Posso, who admits lacking the patience to wait 15 minutes for a table at any eatery. "The line goes down to the alley; that's a hundred feet of people. The doors open, and they run in there like they're trying to get to the front of a concert. It's absolutely bizarre."
And it isn't just headbangers. The most impressive thing about Kuma's might be their ability to draw such a varied crowd. Your everyday Kuma's dinner crowd could include as many polo shirts as Pig Destroyer tees, a fact Posso attributes in part to WTTW restaurant review program "Check, Please!," which helped reveal the place wasn't full of Satan-loving goat-sacrificers. Or at least not goat sacrificers.
"People got a chance to look at the restaurant on TV and realize there's no chairs being thrown around, and we're all pretty damn nice people."
Pretty damn generous, too.
Two years ago, while Posso was still tending bar, he had the idea of giving away all his tips (and salary!) on the last Friday of every month to some sort of worthy cause. Fellow staffers followed suit and since then Kuma's Last Fridays have raised money for everything from The Chicago Abused Women Coalition to The Paul Green School Of Rock to local musicians in need like Matt Arluck of Sweet Cobra (see page 28). In March, Kuma's raised nearly $8,000 for Arluck, who had just undergone three surgeries to remove tumors from his liver and spine.
"It's one of the most amazing things," Posso says about Last Fridays. "I just love to see people come together and stop thinking about themselves for a minute.
"I just want people to know that this business owes everything to the people who support it. I would never have the passion and drive to do these things if it weren't for my love of heavy metal. The bands in Chicago that I'm supporting are my favorite things in the world. That's my passion, and that's why I walk in here smiling everyday."
WALK ON HOME, BOY: People dug Lamb Of God's 2005 Killadelphia DVD because it really was a no-holds-barred (remember Mark Morton and Randy Blythe's drunken fistfight?) look at the band in the truest sense, not the press release-bullshit sense. It's a formula the band take even further on Walk With Me In Hell (Epic), where cameras document Blythe, Morton, Chris and Willie Adler, and John Campbell's every move for two years on the road supporting Sacrament. The two-hour feature documents LOG's rise from opening for Slayer, Megadeth, and Heaven And Hell (where crowds all but ignore them) to a cumulating arena headlining jaunt of their own. "We're no longer that kind of underdog metal band that everyone roots for. We're now the target. It's almost . . . we've set ourselves up for people almost wanting us to fail," Chris says about his band's rise. As insightful as the Disc One documentary is, it might be Disc Two's "Making Of Sacrament" feature that sheds the most light on the band as "everything-must-be-totally-metal" Chris squabbles with Morton about his rock 'n' roll riffs and Blythe, obviously haunted by inner turmoil, struggles to record his vocals. In addition to the two already mentioned features, Walk With Me also includes tons of live footage (including an entire 2007 Download Festival set), the "Redneck" music video, and a surprisingly interesting "Making Of Redneck" featurette. If the making-of-the-music-video segment is even good, a DVD is worth its sticker price.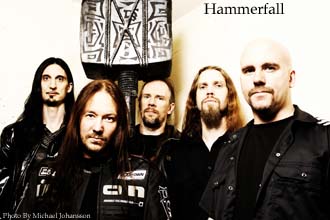 POWER METAL GONE WILD: You haven't lived until you've heard Hammerfall perform "Detroit Rock City." That said, though, there's not much in the way of un-heard goodies here for avid fans on the Swedes' covers record, Masterpieces (Nuclear Blast): Only three of these 18 covers (Riot's "Flight Of The Warrior," Skid Row's "Youth Gone Wild," and Europe's "Aphasia") were previously unavailable. Casual followers, on the other hand, don't need to buy nine different CDs to get this impressively varied (Helloween, Accept, and Rainbow?!) collection. FYI: Hammerfall do a decent job with Twisted Sister's "We're Gonna Make It," but for you true Sick Motherfuckers, check out Chicago hardcore/metal band The Killer's take on "Burn In Hell" from their 2004 (re-released with DVD in '06) album, Better Judged By 12 Than Carried By 6 (Organized Crime). FYI 2: Though by press time I hadn't been able to emerge myself in its full glory, Hammerfall and Nuclear Blast also released the Rebels With A Cause DVD, which spans 2002 through 2007 and features music videos, live footage, and a documentary.
See you at Alehorn Of Power III?
mosh@illinoisentertainer.com
– Trevor Fisher
Category: Caught In A Mosh, Columns, Monthly