Thee Silver Mt. Zion Memorial Orchestra & Tra-La-La Band
13 Blues For Thirteen Moons
(Constellation)
Keeping their bandname the same embarrassing length as for 2005's Horses In The Sky, Thee Silver Mt. Zion Blah Blah Blah are able to focus their energies on this equally strong follow-up.
Appearing: Saturday, May 31st at Logan Square Auditorium in Chicago.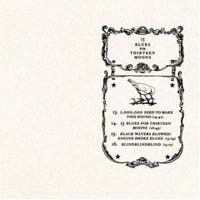 As the most consistently active offshoot of post rock icons Godspeed You! Black Emperor, Zion nonetheless always felt like the prequel to a Godspeed nightcap at either Pitchfork Fest or All Tomorrow's Parties. 13 Blues For Thirteen Moons could finally change that.
Much like Godspeed's wandering exclamation point, there's a pile of nearly insurmountable pretense involved, beginning with the name and extending to 13's dozen, 15-second opening tracks topped by four opuses all exceeding 13 minutes. Yet it makes for a tense hour of caged-animal psyche rock, pierced by Efrim Menuck's tonally challenged wail. Menuck wants nothing more than to admonish us lowlifes, insisting on the "opener" "One million died to make this sound." And though you'd like to slap him silly, the chaos within has been expertly orchestrated to crash, cruise, and crescendo at key moments, turning 13 into an epic sea storm and not caring to ever let the clouds break.
6
— Kevin Keegan
Click here to download an abridged version of "13 Blues For Thirteen Moons."