The Cure
Allstate Arena, Rosemont
Saturday, May 17, 2008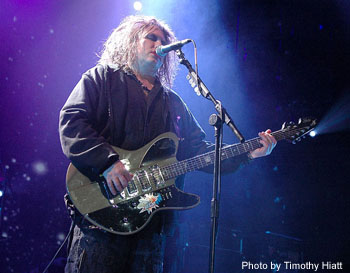 Click picture for full gallery
Judging from those at Allstate Arena, the average Cure fan has moved on. Somewhere along the way, they ditched the black clothes, stopped moping about their lot in life, and joined society. As a result, the only eyeliner was on the stage.
Yet moving on doesn't mean forgetting. The Cure's three-hour-plus set provided the perfect opportunity to channel your inner goth, even if your wardrobe now consists of blue shirts and khaki pants.
Despite not having any new material since 2004, The Cure are on the road with a marathon show that covers every phase of their 30-year career. Chief Cure-rator Robert Smith announced that he wasn't feeling quite up to snuff, apologizing for "my fucking voice being awful," yet he certainly didn't sound under the weather. Despite Allstate's subpar sound mix (or perhaps because of it), Smith sounded as good as he ever has. Only near the end of the third hour did the voice start to go, and really, by that time we could cut him a little slack.
Pacing is everything when you're running a marathon, so it's no surprise the set took its time getting going. "A Night Like This" and "Lullaby" were indicative of the steady pace, and a couple of new songs, "The Perfect Boy" and "Sleep When I'm Dead," were serviceable if uninspired additions to the Cure canon that provided a chance to make a beer run or just nod in time.
Yet at about the hour-and-a-half mark, they kicked it into gear with the blazing trifecta of "Friday I'm In Love," "In Between Days," and "Just Like Heaven." From that point on, all bets were off.
With Porl Thompson on guitar, Simon Gallup on bass, and Jason Cooper on drums, the pared-down band operated with no keyboards in sight. To be honest, they weren't missed. With Smith and Thompson playing off each other, it was easy to forget Smith is quite a good guitarist in his own right. But just in case, his workout on "The Kiss" served as a reminder.
Thirty years is an eternity in the music business, but with a new album planned for release sometime this year and their appearance here, The Cure have no plans to call it quits anytime soon.
And that's a good thing.
— Timothy Hiatt
Category: Live Reviews, Weekly