U.D.O.
Metallized
(Locomotive)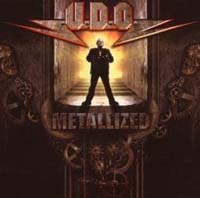 Who would have thought the one song almost any heavy metal fan can associate Udo Dirkschneider with, "Balls To The Wall," would be the standout track of U.D.O.'s newest best-of compilation for all the *wrong* reasons?
Metal has always had an inappropriate relationship with acoustic instruments in the form of bands who feel the need to record their best songs unplugged. Maybe it's an attempt to be looked at "seriously" by genre outsiders, or maybe it's just a chance to try something new. Either way the results are usually embarrassing, and the bonus-track version of "Balls To The Wall" that shows up on Metalized is no exception. Dirkshneider has the bulky brass to degrade the Accept (the band Dirkschneider fronted before forming U.D.O. in 1987) classic by singing it nearly spoken-word style over twinkling ivories and a rattling tambourine. It's as bad as horrifying sounds.
Luckily, the rest of the 15 songs (12 "hits" chosen by U.D.O. fans via Internet voting, "Balls To The Wall," two unreleased, and "Bullet And The Bomb" live) stick to the classic metal blueprint, much like Dirkschneider himself has done throughout his career. Latter-day material like "24/7" ("We know we live it/24-7/24 hours/a days a week!") from 2005's Mission No. X and 2004's Thunderball title track (nothing from last year's solid Mastercutor, though) could have come from late-'80s efforts like Animal House and Mean Machine, and that's a good thing. U.D.O. have held up surprisingly well, and their fans' decisions to vote heavily for material from this decade ("They Want War" and "In The Darkness" are the only significant '80s cuts here) actually end up being wise, as most the classic stuff was on 1999's Best Of anyway.
7
— Trevor Fisher