Love In October
Reggie's Rock, Chicago
Saturday, February 2, 2008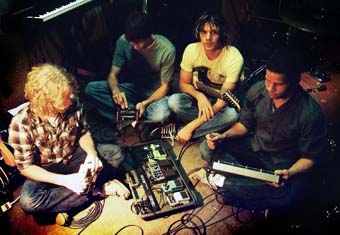 How do you know when a rock group take themselves way too seriously? How about when they proclaim it bothers them to be called a band because it "limits [them] to a scope of music" and "[we] want . . . to be known as creators, not musicians"?
Apparently, because Minneapolis-based (Sweden-born) Love In October made a few short films and a couple elaborate music videos ("A Day In The Life Of," "An Average Idea"), they are artists, not mere scum-sucking musicians. Pffffffft.
Here's the thing though, LIO: You play – er, "create" – pop punk: you ain't exactly Mozart. Yeah, tunes from Pontus, The Devil, And Me (The Musik Group) like "Circa 1989" and "Petrula The Destroyer" are catchy, and yeah, your short films can be kinda funny (saying "hammer time" after someone gets bludgeoned with a hammer is always classic), but step back for a minute, dudes. Shit, Dee Snider wrote and starred in a full-length feature film (Strangeland, yo) and still kicked out the bad-ass jams. You don't see him walking around with his nose in the air, do you?
Love In October, along with District Somnium, open for The Sapiens. This show is the early, all-ages concert. Roosevelt Jenkins headlines the 18-and-over show immediately after.
– Trevor Fisher
Click here for streaming Love In October samples.
Category: Stage Buzz, Weekly