Lenny Kravitz
Riviera Theatre, Chicago
Saturday, January 26, 2008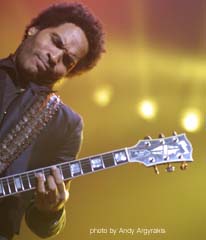 These days Lenny Kravitz is more likely to play an arena than an intimate setting, making a pre-release warm up tour at the Riviera Theatre a somewhat unusual occurrence. The retro rocker likened it to being "just like the old days," but with longevity under his belt, he had no trouble selling out this particular gig within seconds. Though a full-fledged arena outing is coming this summer, the scaled-back production and much smaller confines ensured a more personal feel, and, with a captive audience, also the chance to plug It Is Time For A Love Revolution (out February 5th on Virgin).
For more exclusive photos visit illinoisentertainerphoto.com
Even with anticipation brewing for his eighth studio album, the local unveiling was a mixed bag of stirring messages, formulaic throwbacks to previous collections, and a long-winded piano jam. The night opened with the psychedelic strength of "Love Revolution," an instantly relatable romp that found the sunglasses-adorned Kravitz and six backers contagiously crossing the soul-smacked worlds of James Brown and Prince with an updated version of his own signature funk/rock amalgamation. The unity-filled lyrics also established the set list's tone, urging governmental and corporate entities to transition away from greed, ego, and power towards peace.
As is the case with many of Kravitz's projects, the new record appears to be anchored on the strength of one or two key tracks, but is also weighed down by less captivating filler. Despite being displayed with a blistering guitar solo a la Jimi Hendrix, "Bring It On" lacked the anthemic appeal of the aforementioned, while also following a predictable pattern from past projects. In fact, the new piano ballad "I'll Be Waiting" seemed especially derivative of the midtempo mega-hit "Again," though it quickly developed into self-indulgent sleepiness.
Even with several more forthcoming tunes, Kravitz made sure to pepper the set with favorites, particularly ones that fell in line with the harmony theme. "What The Fuck Are We Saying?" and "Let Love Rule" were the most directly related, with an extended version of the latter serving as a spoken-word platform to reiterate such thoughts. "People keep asking 'what does this love revolution mean?' and it's really very simple," he shared. "I have this desire one day that we will have peace throughout the planet . . . but that won't come without a global change of consciousness."
Thankfully he steered away from all-out peachiness, but even with the proper balance, Kravitz still peaked with the party tunes (which included his textbook sing-a-longs "Dig In," "Where Are We Runnin'?" and "Fly Away"). Though his somewhat one-dimensional take on "American Woman" didn't match The Guess Who's iconic original, it helped progress the home stretch and was yet another example of an undying vintage affinity. However, the set's finale found the focus solely on Kravitz, who delivered "Are You Gonna Go My Way" with incendiary guitar riffs that have already cemented his place in among current icons, even if some of the songs showcased weren't nearly as immediate or inventive.
— Andy Argyrakis
Category: Live Reviews, Weekly