Steve Earle
Goes Through The Wire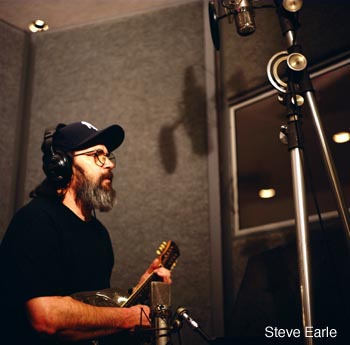 Any viewer tuning into the last season of David Simon's brilliant HBO series, "The Wire," probably did a double-take as the credits rolled. That bearded ex-junkie informant Waylon was actually played by folk-rocking firebrand Steve Earle? Yes, it's true, says the singer of his weaselly alter ego, a recurring character who has popped up in alternating seasons. And he's the first to admit it — staring in the mirror at the John-Brown-furry Waylon, "That beard was kinda scary," he shivers. "And I've known Billy Gibbons from ZZ Top since I was about 14, and I had a dream that I was standing in this infinite space and Billy was walking in circles around me, pulling on his own beard and going 'Cool, man!'"
Appearing: March 7th at Vic Theatre in Chicago.
But fans who check out Earle on his current tour — with new missus Allison Moorer as opening act/duet partner — are in for another shock. That tumbleweed of facial hair has blown on down the dusty trail. "I shaved the beard off the day after I finished 'The Wire,'" chuckles the now slightly-muttonchopped chap, whose filming ended before the Writers Guild strike kicked in. "I shot my last episode, and Allison was practically waiting for me at Penn Station. I got home, and my razor was literally out and waiting."
Either way, Earle was just happy to be back on his native turf. Not Texas, where he was born and bred. And not Nashville, where he'd ventured in the mid-'70s to try his hand at songwriting. No, he now resides in the neighborhood of his childhood dreams, New York's Greenwich Village, a setting he loves so much he has essentially penned an album-length love letter to it with his latest, Washington Square Serenade (New West). Plus, he can also stroll to work at his other part-time job at the Sirius Satellite network, where he hosts a weekly "Steve Earle Show: Hard Core Troubadour Radio." He's proud to note: He lives on the same street pictured on the cover of Dylan's The Freewheelin' Bob Dylan; he's pals with the gal Dylan's with in said snapshot, Suze Rotolo; and he and Moorer will be penning a guide book for a folk-music walking tour of the historic area this year.
The artist maps out his journey in the loping, click-track-rooted Serenade opener, "Tennessee Blues": "Blue dog on my floorboard, redhead by my side/Cross the mighty Hudson River to the New York City side/Redhead by my side, boys, sweetest thing I've found/Goodbye Guitar Town" — a reference to Earle's breakthrough — and genre-defining — alt-country debut from '86, Guitar Town. Why New York? Why now? Easy, he replies. "Part of it was the radio show — originally I was on Air America, but now I'm on [Manhattan-based] Sirius Satellite. And I was also wanting to be — politically-speaking — in a little bit more friendly territory. But also, I married a girl with a job, so it became financially feasible for me to actually live in New York — I wasn't quite there until I had a second income in the house."
Track Two on Serenade, the mostly spoken-word "Down Here Below," picks up where its predecessor leaves off, with Earle settling in so well he's studying the city's famous urban-inured redtailed hawk Pale Male through binoculars, and seeing much larger metaphors in his swooping aeronautics. "And I knew about Pale Male before I moved here, 'cause my dad's a pretty avid birdwatcher, so that story always fascinated him," says Earle, 52. "And we'd been watching the redtailed hawks come back in Tennessee — they were almost extinct there in the '70s, because DDT just about finished off all these birds of prey by making their eggs too fragile. So we stopped using DDT and part of the Earth started to heal itself. So don't think that things don't get better when you start doing the right thing."
Earle has already fallen into so many familiar routines, he's practically a coffeehouse regular. A longtime advocate of the Atkins diet, he jogs to a nearby gym every morning, grabs java and a deli breakfast on the way home, and often ends the day hanging out at one of his favorite guitar shops. The 'blue dog' he immortalized in song, he adds, "is an Australian cattle dog named Beau that I've had for about six years — he looks exactly like The Road Warrior dog and goes pretty much everywhere with me."
Ergo, Beau appears in folk-art rendering on the Serenade cover, and in several interior photos, as well. And much of the record follows introspective Big-Apple-inspired suit — a scratch-mix-funky "Satellite Radio," sung from a lonesome DJ's perspective; a tropical-infused, urban-experience travelogue, "City Of Immigrants," backed by Forro In The Dark; "Steve's Hammer (For Pete)," Earle's rollicking take on classic East Coast folk; and a subtle duet with (and for) Moorer, "Days Aren't Long Enough," which earned the missus a Grammy nomination for Best Country Collaboration With Vocals. No stranger to those Awards himself, Earle follows his win for the recent The Revolution Starts . . . Now with another nomination, this time for Best Contemporary Folk/Americana Album.
And therein hangs the activist tale. Has Earle — who spent much of Revolution and the previous Jerusalem angrily shaking his lyrical fist at the current administration — followed in the footsteps of filmmaker Michael Moore and jumped down from his soapbox to rub shoulders with the common man? The revolution he foretold still hasn't kicked in, Idiocracy-style ignorance still rules America, dude, and a CNN reporter actually uttered these zeitgeist-defining words last year while covering Paris Hilton's return to jail: "We have a chihuahua sighting!" Don't we need this political pundit's scathing commentary more than ever now?
Earle pauses, then offers a measured response. "Well, I can't speak for Michael Moore, but while I think I probably communicate in hardcore political terms more readily than some artists do, I also needed to be able to write stuff that I needed to write for me," he sighs. "And that was what I felt I needed to do. It's not like this record is apolitical — I don't think I have that in me. But somebody else is welcome to step up to the plate while I take care of my personal business." He even bristles at the term "soapbox." "I don't think I was ever on one — to me, I was just doing what artists do.
"And it's dangerous to sit around talking about when artists are allowed to comment on the society they live in, and when they're not. I made a decision a long time ago to be an artist, rather than a country singer or a pop singer. And it's a conscious decision you make with your eyes wide open, and there are consequences. And the truth of the matter is, you can only spend so much money, and I make a really comfortable living. But I do make a lot less money than I would if I just kept my mouth shut, like other people wanted me to. But I'm cognizant of that, and I don't regret it a bit. So even using the term 'on a soapbox' is kinda dangerous, but that's the climate that's developed. I grew up in an era when nobody would question for a second that an artist's responsibility was to comment on the society around them. So that's my job."
Sheryl Crow. Sean Penn. Linda Ronstadt. The list of outspoken — then press-pilloried — leftist performers goes on and on. "And that's the thing — if they weren't worried about [what] Sean Penn said or what I said, they wouldn't spend so much time trying to discredit us," chuckles Earle, who came under fire for composing a ballad about the American Taliban, John Walker Lindh. "They," of course, being a well-organized, right-leaning media, a la Fox News. "And Michael Moore scares the living shit out of 'em, because he does communicate in a language that any person can understand. They don't waste any time worrying about what Noam Chomsky's doing — I think he's brilliant, but even I have to work at reading Chomsky because I'm just not smart enough to get him on the first reading."
Has the far right been antagonistic towards Earle?
— Tom Lanham
For more on Earle's wranglings with politicos grab the February issue of Illinois Entertaner, available free throughout Chicagoland.