Wild Sweet Orange
Schubas, Chicago
Monday, February 4, 2008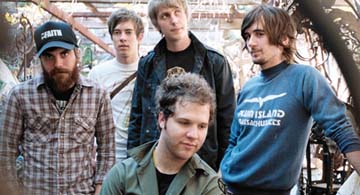 Birmingham, Alabama-based Wild Sweet Orange offer the self-reflection and sensitive yearning we've come to expect from alumnus of that great jukebox known as "Grey's Anatomy." It's easy to reason why the folks behind the ABC hit show chose "Land Of No Return," from the band's Whale (Nervous Blood) EP, to mirror the emotions of Seattle Grace's hospital staff.
Unfurling its spiritual core amid even-keeled, wave-like guitars, the song fits nicely into the background, never announcing itself too rigorously, which is great for TV, but not when the music needs to stand on its own without George, Izzy, and Meredith.
The five-song EP finds the childhood friends grasping for bigger hooks. Lead singer and songwriter Preston Lovinggood has the strategy down, but fails to pummel the tunes into the listener's head quite like the way The Fray manage with each track. Wild Sweet Orange are no less talented at their craft than the latter group and songs like "Be Careful (What You Want)" prove they're on the right track, but an additional jolt of catchiness is needed if the band want to differentiate one composition from the next.
With Tom Schrader & His Ego and Brent Pulse.
— Janine Schaults
Category: Stage Buzz, Weekly