Daniel Johnston
Metro, Chicago
Wednesday, February 6, 2008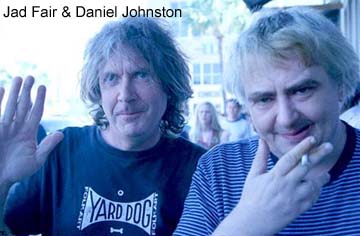 As the '70s became the '80s, Daniel Johnston became a fixture of the Austin, Texas music scene, peddling homemade cassettes of his songs to passersby. Even a cursory listen to this material (available today on Songs Of Pain 1980-83: The Early Recordings Volume 1) reveals something amiss — he's bipolar. Though his voice is childishly high, lyrical fixtures include Captain America, and depression surges too often to be considered random, his music has never been easily dismissed.
From an audience perspective, Johnston (not unlike Wesley Willis) might present a moral dilemma. His episodes have been both silly (kicked out of the Statue Of Liberty for vandalism) and dangerous (he nearly crashed a plane by incapacitating his pilot father midflight). Medication has largely balanced him, but he'll always be susceptible to abuse from crowds who don't know the situation. His unmistakable passion for making music and performing can be cynically exploited.
But goddamn if he isn't too talented to keep from others.
Released three-and-a-half years ago, The Late Great Daniel Johnston: Discovered Coverered (Gammon), provides proof in case you need Johnston's occasionally challenging performances validated by others. A stacked roster including buddy Jad Fair of Half Japanese, TV On The Radio, Bright Eyes, Beck, Death Cab For Cutie, Tom Waits, and Violent Femmes' Gordon Gano recreate the tracks in their idioms without necessarily altering them, and his whimsy is contagious. Fittingly, the most inspired moment is "Good Morning You" by The Flaming Lips and Sparklehorse, a pair of artists who pull in the same conflicting directions as Johnston's affliction. That the song feels out of the reach of neither speaks to Johnston's songcraft — something that thankfully hasn't been hidden when company arrives.
Office open.
— Steve Forstneger
Category: Stage Buzz, Weekly