Armor For Sleep, Cobra Starship
Riviera, Chicago
Saturday, November 24, 2007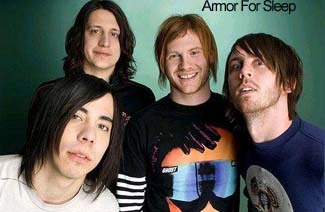 All the scene's other three-word-named bands' schedules must have conflicted with the Sleeping With Giants (even the tours have three words) tour. How else do you explain Cobra Starship and Sherwood on a bill with The Academy Is, Armor For Sleep, and The Rocket Summer?
Plain White T's, Taking Back Sunday, and My Chemical Romance couldn't make it? No Motion City Soundtrack? Shit, how about The Panic Division for that matter? If you're going to sound like every "emo punk" band in the game — and Cobra Starship and Sherwood do — you might as well add one more damn word to your name! Armor For Sleep got the memo. The group's most recent record — and major-label debut — Smile [one] For [two] Them [three!] (Sire), follows the blueprint line by line with 12 songs that provide just enough new (a little less spunky than Fall Out Boy; a little more dreamy than The Academy Is) to avoid anonymousness but with more than enough familiarity to make fans from any of the aforementioned acts' fans. Don't call Armor Sleep coattail riders, though. To hear them talk in the album's press materials, they're OG — been down for a long-ass time. "We've definitely taken the long road in a time when so many bands pop into existence and sell a million records right away," frontman Ben Jorgensen says about his group's five long, hard, years of paying dues.
Coincidentally, the "pop into existence and sell a million records right away" shot could apply to tourmates and words-per-band-name violator Cobra Starship. The group (a creation of Midtown's Gabe Saporta) came out of nowhere last year and scored a hit single with the super obnoxious/infectious "Bring It (Snakes On A Plane)," the theme song to the much-hyped Snakes On A Plane movie. That tune was an all-star collaboration, thanks to contributions from members of The Sounds, Gym Class Heroes (a triple-worder we forgot to mention earlier), The All-American Rejects (ditto if you count the hyphenated "All-American" as one word), and a music video cameo by Pete Wentz. The Starship-Fall Out Boy connections don't end there, though: Starship are signed to Decaydance Records, Wentz, Patrick Stump, and Gym Class Heroes' Travis McCoy's vanity label; Stump was in the "Send My Love To The Dance Floor, I'll See You In Hell (Hey Mr. DJ)" music video (they also obviously share an affection for annoyingly long song titles); and the FOB frontman produced Starship's recently released !Viva La Cobra!, which, not that we're counting, has three words in its title.
Both bands open for The Academy Is.
– Trevor Fisher
Click here for Armor For Sleep streaming samples.
Click here for Cobra Starship streaming samples.
Category: Stage Buzz, Weekly