Wall To Wall Guitar Festival, Take Two
Krannert Center, Urbana
September 13 – 15, 2007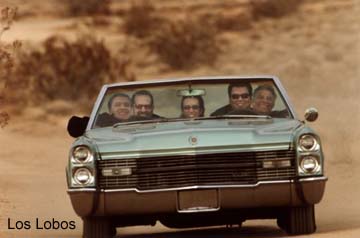 When curator and artistic director David Spelman brought the first Wall To Wall Guitar Festival to Champaign-Urbana's Krannert Center For The Performing Arts in 2005, it presented the guitar as an object worthy of Serious Study. Through 30 artists and three days, the guitar was sagely considered by artists who normally should have known (and played) better. Over-eager and under-confident, the first Wall To Wall Festival approached the guitar with a reverence that buried the guitar's most enduring, endearing trait: It's fun as hell.
My, what a difference two years makes.
The Wall To Wall Guitar Festival, Take Two was everything the guitar is: cocky, sophisticated, roguish, beautiful, plebian, loud, rebellious, respectful, silly, brainy, enticing, revelatory, passionate. Ambitious and exciting, Wall To Wall Take Two was a festival that is hitting its stride and reveling in it.
Since 2005, Spelman has curated additional guitar festivals around the world; Krannert Center For The Performing Arts has grown ever more comfortable commissioning challenging works that incorporate popular culture. The net result is both Spelman and director Mike Ross were confident enough to push the boundaries of a performance center and let the guitar rip, regardless of genre. As before, there were 30 artists over three days (actually, slightly more than that this year) and the shows ranged from the merely good to the downright sublime.
Of the good performances, Khaki King, the rising acoustic-guitar goddess who was the find of the Festival two years ago, returned to this one with an artistically broader range that isn't quite fully integrated, yet. Jorma Kaukonen, backed by mandolin player Barry Mitterhoff and slide player Cindy Cashdollar, played a show dominated by rural acoustic folk-blues covers. They kept accenting what his intricate finger picking otherwise hid: some serious mellow-hippie roots. Had Cashdollar not been there, his set would have been irretrievably mired in the gushy softness of Wonder Bread. The North Mississippi All-Stars turned in a set that was lively, but loose to the point of sloppiness, while the Yohimbe Brothers with Vernon Reid and DJ Logic continue to promise more interesting material than they deliver.
Better were Dan Zanes & Friends, who proved you don't have to be bizarrely energetic like the Wiggles or cloyingly edge-less like Raffi to get kids laughing, dancing and singing. The ex-Del Fuegos guitarist showed all you need to do is treat them with intelligence, talk to them like they're humans, and thoroughly enjoy everything you — and they — do. Asheville, North Carolina's Toubab Krewe blended Malian, Carribbean, Brazilian and "dirty South" blues into something compelling and lively. Natalia Zukerman is an engaging and promising singer-songwriter, able to hold her own. Zukerman has songwriting skill, but it is not yet on part with her remarkable guitar playing.
Shawn Colvin served her songs well, both as singer and guitar player, although the rhythm of her set was uneven because she tuned between every song, by ear, without a tuning machine. Sonny Landreth, with Cashdollar sitting in, played with a freedom and openness that sometimes approached the incendiary, while the duo of Goran Ivanovic and Fareed Haque carefully wove lyrical and emotionally draining classical and Macedonian blues. Buddy Guy and The Delta Kings closed out the festival with flair and showmanship that never substituted for their ease and skill with raucous, roadhouse blues and rock.
But the amazing moments of the Festival, the ones people talked about at the proverbial water coolers the next day, came from Cindy Cashdollar, The Campbell Brothers, and Los Lobos. A sterling slide guitarist who is comfortable playing lap steel, dobro, electric, acoustic — probably any stringed instrument that can take a slide — Cashdollar brings imagination and confidence to her instrument, no matter the genre. Cashdollar played no set of her own, yet she sat in on several; every time she came on stage, the performers relaxed and the energy went up, sometimes dramatically.
The Campbell Brothers come from same sacred steel movement as Robert Randolph. Three brothers on guitar (lap, pedal, and electric), and a Campbell son on drums rounded out with a singer and a bassist, the Campbell Brothers play gospel that testifies with funk, rock, and a heat that comes dangerously close to the secular. They were magnetic, riveting, and, finally, revelatory.
But it was Los Lobos who defined the guitar for this Festival. Grammy winners, hit makers, together for 30 years, Los Lobos have nothing to prove and nothing to lose. So they play for the love of it, for the joy of it, because they can and because they're that good. Their music has a subtlety and elegance that often hides the fact that, live, they are great guitar rock band. With the addition of drummer Cougar Estrada, Louie Perez has moved out from behind the kit and back to guitar so the Los Lobos front line is four guitars — and four singers — deep. Add that one of those guitarists is David Hidalgo (with the other Cesar Rosas), and the music seems so effortless that it takes concentration to realize how hard the band works. Their set wasn't ground-breaking – it emphasized their most recent album, The Town And The City (Hollywood), interspersed with their most well-known songs ("Don't Worry Baby," "Mas y Mas," "Kiko," "Short Side Of Nothing") — but Los Lobos performed them like they were shiny new toys. Yet it was the encores that served notice on the audience that Just Another Band From East L.A. was anything but: Their cover of Neil Young's "Cinnamon Girl," performed in a hall nationally noted for its superb acoustics, said more in four minutes about the power, appeal, and artistic pre-eminence of the guitar in popular culture, than in the entire set previous. That the audience was almost exclusively adults older than 25 spoke volumes, too.
Apple was a sponsor of the Festival, so there were free iTunes downloads and podcasts, iMixes and Wall To Wall guitar samplers. Krannert Center's Studio Theatre became a public hall, where once and future guitar heroes could test amps (courtesy of Mesa Boogie), record a song in a booth, study a display of weird and unusual guitars, buy CDs and merchandise, and meet and greet the artists who played. For all that, however, the Festival still needs to overcome some snobbishness about the Midwest in general and Champaign-Urbana in particular. Buddy Guy, for example, felt an inexplicable need to give his sold-out audience a lesson in Blues 101. Perhaps any random audience in Los Angeles or even New York would need to be reminded what B.B. King sounds like and who Muddy Waters influenced, but an audience at a guitar festival in a university town with a noted music department, two hours south of Chicago on both the direct train line and interstate between New Orleans and Chicago? No. It was a waste of breath.
It's fair to say now, two festivals into it, the Wall To Wall Guitar Festival has the potential to be — no, should be — a national draw. Between the acoustics at Krannert Center (among the best in the country), the artistic visions of both Spelman and Krannert Director Mike Ross — visions that are as inclusive of art as they are open to it — and the caliber of performers who perform, it's exciting. This is a Guitar Festival that promised a lot and delivered even more.
— M.S. Dodds
Category: Live Reviews, Weekly