Rilo Kiley, Johnathan Rice
Riviera, Chicago
Saturday, September 15, 2007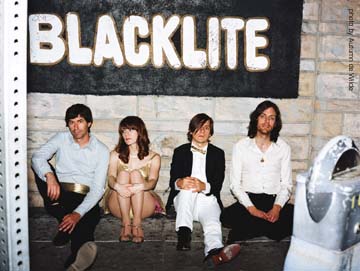 Stationed in front of a gold lamé curtain Saturday night at the Riviera, Rilo Kiley proved they've officially gone Hollywood. Then again, the quartet (now aided by two backup singers/instrumentalists) have always had ties to Tinsletown. Guitarist Blake Sennett and lead vocalist Jenny Lewis' former child-actors status aside, this tour finds the band on a major label (Warner Bros.) and together after a solo album-imposed hiatus courtesy of the once romantically linked songwriters.
Polished and confident, Rilo Kiley sped through a set list of tracks mostly from their newest release, Under The Blacklight, and 2004 breakthrough More Adventurous (Brute/Beaute). Keeping the onstage banter to a minimum, the group focused on the music, instead of each other. Lewis, dressed in a gold sequined top and white hot pants, is now officially the star of the show, regulating Sennett to two solo turns at the mic. His ukulele-and-mandolin-drenched "Ripchord" shined, but it's hard to beat Lewis' aching vocals and sultry pout. Sennett, seemingly resigned to this fact, let the redheaded siren soak up the cheers while providing the backbone to the tunes with searing, punchy guitar work.
Despite a touching, acoustic sing-along "With Arms Outstretched," with Sennett and Lewis channeling Johnny Cash and June Carter Cash, the dimming spark between the pair was palpable. As consummate performers, the two never miss a beat, but one sorely misses the electricity that once surged when they bored their eyes into one another.
The new, commercially-aimed songs fared well in a live setting. Cowbell in hand, Lewis slinked her way through the soul-infused "Breakin' Up," although the backup singers forgot to conjure up Dusty Springfield, instead opting for stoic alt-country. "Give A Little Love" sweetly summed up the night, while the '60s-inspiried "Smoke Detector" gave the crowd something to dance about — it even inspired Lewis to break out into the Swim.
Lewis' vocals, stronger than ever and imbued with a flair for the dramatic, could stop traffic. Serene one minute and furious the next, she outstrips her peers on the torch song "I Never," and the catch in her voice infused show closer "Does He Love You?" with a sense of hopeless acceptance — similar to the audience's when the band exited stage left.
Steeped in Americana, opener Johnathan Rice summoned influences Tom Petty and Townes Van Zandt during his half-hour set, reflecting an old soul in the body of a 24-year-old man. Joined by girlfriend Lewis on "The End Of The Affair," a tragic, yet beguiling ballad that stands out among the other superbly road weary tracks on his sophomore effort, Further North (Warner Bros.), Rice exudes just-rolled-out-of-bed chic. Uncertain in his stage presence between songs, Rice sharply comes into focus during hell-raiser "We're All Stuck Out In The Desert." Backed by a traditional lineup of drums, guitar, and bass, Rice eschews rock star posings and just lets his tales of lonely drifters do the talking.
— Janine Schaults
Category: Live Reviews, Weekly