Okkervil River
Logan Square Auditorium, Chicago
Tuesday, September 18, 2007
Okkervil River are a sloppy band — it's largely what makes them so effective. Frontman Will Sheff sings as if he has no control over his voice while the rest of the Austin band claw at their folk rock with more crazy, less horse.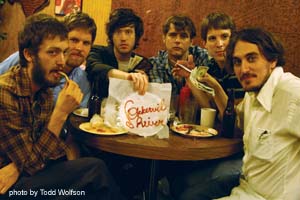 The Stage Names (Jagjaguwar), their fourth album in five years, harnesses their volatility into its most accessible mold yet, and instead of watering things down it figures out how to work Sheff and co. into sturdy songs, rather than the other way around. On Tuesday night at a sold-out LSA, Okkervil took the stage in suits and weren't we all ready for a Wilco concert! Before long, however, the lid popped off again and musical popcorn was all over the place.
So much was evident from opener "Plus Ones," a tamer Stage Names song Sheff decided to oversing when his harmonies came to. Then, practically admitting where the night was headed, Okkervil launched into "Lady Liberty" from 2002's Don't Fall In Love With Everyone You See, and — conspiring with the LSA's dreaded acoustics — it was as if Mom and Dad were out of the house for the evening.
By the time the singer finished dominating the shuffling "Song Of Our So-Called Friends" he had to take his jacket off. His timing couldn't have been better, though, because it acted as a running start into the impassioned "Unless It's Kicks," whose pounded chorus nearly (gloriously) overran its starts and stops. Suddenly it came to light this is a band, no matter how well it suits them on record, who can't rightfully be bottled up for long.
Catching only the end of Damien Jurado's set, it was unfortunate to hear the LSA gobble up the measured tones from his new trio. But a new, lean Jurado did manage to guide the building "Lose My Head" through the murk.
— Steve Forstneger
Category: Live Reviews, Weekly