At BLUE ROOM STUDIO in Chicago, producer/engineer Edgars Legzdins finished his band Plane's new record, I See Love In The Future; the release date is set for October 9th . . . Legzdins also recorded a song with the Musical Outfits for their new album and worked with Pretty Good Dance Moves, techno/experimental/pop tunes that involve an array of Chicago artists . . . The Shitty Cousins (GrandpaKnow) are recording a demo EP and soliciting bands to record for "bargain basement prices." Situated in Blue Room Studios, they are ready to launch into a wormhole of interstellar production exploration. See www.myspace.com/grandpaknow and www.myspace.com/karateflags for demos. Call (630) 903-4259 and ask for Grandpa . . . Former Big Buildings drummer Adam Yoffe now records at Blue Room as Prize Beagle Recordings. He's currently working on a full-length for local trio Milk At Midnight.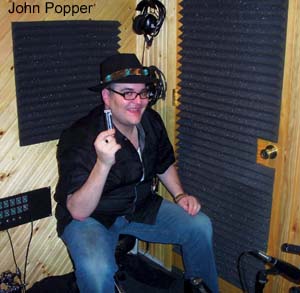 At DRUMHEAD RECORDING in Midlothian, John Popper of Blues Traveler recorded several tracks for a guest appearance on an upcoming Will Freed CD. Owner/operator Patrick Doody played drums and produced . . . Chicago's Girls Next Door, featuring Angela Fett and Freda Humble, tracked their freshman release. The record features EADG4 bassist John Falstrom and Frank Anastos on guitar. Doody played drums and produced . . . Hairbanger's Ball tracked sequences and songs with Tyler Holcomb on vocals . . . Lockport blues diva Deb Seitz finished her newest release, Soul Stirring, featuring Doody on drums. He also produced the effort . . . Doody tracked drums for Chicago guitar guru Dave Schmitt's new release . . . Chicago blues icon Vance Kelley mixed his latest live CD, recorded on location by Doody with a remote 24-track mobile unit . . . Other live projects included Keven Szabo's Rock-A-Halics and Chip Ratliff's Electric Chitlin' Stew Live, recorded at Flatlanders in Lincolnshire . . . Indiana blues harpist Kenny Grubbins mixed two projects, both recorded live and mixed by Doody . . . Riverdale Marina were in for the mixing and mastering of Blues On The River, Riverdale Style CD/DVD, recorded live . . . Lemont's Timings Everything came in to re-track performances for an upcoming release featuring Lee Bailey and Janie Thomson on lead vocals; Doody played drums and produced . . . Chicago pop rockers Nice Peter recorded drums.
At LINDER AVENUE RECORDING in Roselle, Jukebox Candy recorded and mixed their debut, The Bottom Dollar Dig, produced by Nick Young and engineered by Dom Palmisano.
Independent Chicago digital audio engineer Jef Moll recorded Alter Bridge (former Creed members) with producer Elvis Baskette at BLACKBIRD STUDIOS in Nashville and at Baskette's personal studio in Virginia. Mol and Baskette also worked together on Chevelle's latest release, Vena Sera.
Usurper guitarist/vocalist/songwriter Rick Scythe has been busy recording his solo project, Nightshade, at BOSS STUDIOS in Lyons with producer Chuck LoPresti. Nightshade's debut is titled Magic Potion and has an October 31st release date.
At SOUNDSCAPE STUDIOS in Chicago, Rhymefest has been busy in the Red Room working on music for his follow up to Blue Collar, called El Che. Some of the new songs feature production by Wildstyle, Just Blaze, DJ Jazzy Jeff, and Lil Jon. Patrick Stump and Joe Trohman from Fall Out Boy have been lending their expertise and instrumentation as well . . . Chicago hip-hop pioneers Crucial Conflict have been busy mixing their new album, their first in several years, with studio owner Michael Kolar . . . GLC worked with Kolar on a remix of Kanye West's "Wait Till I Get My Money Right" . . . Kolar just finished mastering Nice Peter's debut album, Suburban High School (including the Internet hit, "50 Cent Is A Pussy"), which Kolar recorded, mixed, and mastered during the last two years. The album will be the first release on Kolar's new label, SoundScape Records . . . SoundScape is now located at 2010 S. Wabash. The new facility features two studios (the Red and Purple Room), two private lounges, and a granite bar with 50-inch plasmas.
At TAXI RECORDINGS in Chicago, French Kiss Coma worked on their album, We Are All Made Of Stardust, which was mastered by Kramer (Shimmydisc, Bongwater) and is due in October on the Rainy Day Collective imprint . . . FKC splinter-group Mexico Electric wrapped up tracking and mixing six songs that will be added to a previous session to make their debut album, also on Rainy Day Collective . . . Carson McCullers finished overdubs on a record that was tracked in early July. Kramer will mix and master it . . . Forbidden Planet started tracking.
At UP ON THE ROOF RECORDING in Lombard, owner/engineer Mark Blas wrapped up mixes for the new Mitch & The Polecats album, Get Naked . . . Blas also finished tracking the new MER CD, Handwritten.
At UPTOWN RECORDING in Chicago, local band United Secrets Of America spent time with engineer Dan Stock, tracking and mixing their debut EP . . . Also working with Stockton were Chicago veterans Joy Missile, who mixed their newest album . . . Chief engineer Rob Ruccia tracked Chicago blues legends Big James & The Chicago Playboys' new record with Grammy Award-winning producer Andrew Garver . . . Ruccia also completed a 5.1 surround mix of a dance score for "Dance For Life," an AIDS benefit held at The Harris Theatre in Millennium Park . . . Owner Matthew Denny completed another album, New American Way, with Chicago alt-country artist Thomas Pace.
Hey Studiophiler: To get your studio or band listed in "Studiophile," just e-mail info on whom you're recording or who's recording you to ed@illinoisentertainer.com, subject Studiophile, or fax (312) 930-9341. We reserve the right to edit or omit submissions for space. Deadline for the October issue is September 15th.
Category: Columns, Monthly, Studiophile