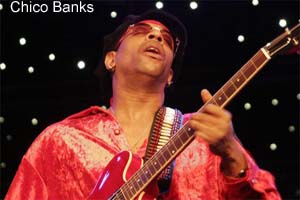 In July, while Eric Clapton's Crossroads guitar extravaganza kicked off at Toyota Park, the annual Taste Of Lincoln Avenue was revving up its 24th year with performances by a wide-ranging group of artists. Of particular interest to "Sweet Home" was the stage at Lincoln and Altgeld sponsored by the club B.L.U.E.S.
The B.L.U.E.S. stage featured Saturday performances by Rob Blaine, Linsey Alexander, Big Ray And Chicago's Most Wanted, Chico Banks, Lurrie Bell, and headliner Larry McCray. Sunday's lineup included Luke Pytel featuring singer/bassist Andre Howard, Les Getrex And Creole Cookin', Rodney Brown And Hot Rod, Pistol Pete, Carlos Johnson, and headliners the Siegel-Schwall Band. Except for Siegel-Schwall and McCray, the majority of the bands are regular performers at the club, keeping the Chicago blues scene thriving.
Having been at the Crossroads Festival earlier Saturday, I arrived at the Taste Of Lincoln in time to see singer-songwriter and guitarist Chico Banks take the stage. Banks is an innovative guitarist who could have easily hung with the superstars at Crossroads. He performed an eclectic set of blues, rock, soul, and funk, delighting the spirited audience with an upbeat, high-energy show. Halfway through he addressed the crowd, marveled at how many of them chose the Lincoln Park fest instead of Crossroads, and cheerily exhorted them to "forget the Crossroads." Deep blues guitarist Lurrie Bell was next, followed by headliner McCray, a guitar master who captures the deepest of emotion and grit in whatever genre he plays.
I wasn't able to cover the B.L.U.E.S. stage Sunday, due to a case of music overload (I was at Buddy Guy's on Saturday night too), but I had seen enough Saturday to be struck by the disparity between the majority of the Crossroads blues rockers, and the Taste blues rockers. Often maligned by critics for expanding the confines of the blues, the Taste musicians are caught between rock and a hard place. They are legitimate heirs to the blues and blues-rock throne and deserving of a shot at superstardom.
MORE LIVE BLUES: A band to watch for is the Chicago Blues Experience, co-founded by veteran guitarist/vocalist and songwriter Vince Agwada and harmonica player Russ Green. I caught them in July at Martyrs' for their first gig, where they played a short set as part of an Independent Feature Project benefit.
Agwada is an ax-burner with a 25-year-plus history touring and recording with Buddy Guy, Koko Taylor, Son Seals, Junior Wells, Sugar Blue, and McCray. Green, a relative newcomer, is a Sugar Blue-inspired harpist who has already racked up an impressive touring history. Drummer/ singer-songwriter Brian "BJ" Jones is one of the most slammin' drummers out there and another veteran musician who has played with Mavis Staples, Otis Rush, Bruce Willis, Guy, Wells, Zora Young, and many others. BJ is said to be the spiritual leader of CBE. Bassist David "Dawi" Williams has an extensive musical background, touring and recording with jazz, blues, reggae, R&B, and third-world artists.
Save for a few kinks, the Chicago Blues Experience put on a well-received show at Martyrs'. Their aim is to fill the musical void left by the demise of the generations that came before them, and they did so admirably, covering tunes by Jimmy Rogers, Otis Spann, and Muddy Waters, hearkening back to the heyday of Chicago blues.
CHICAGO BLUES ON CD: My Woman (TA) is the premier CD by Chicago singer/guitarist/songwriter Toronzo Cannon And The Cannonball Express. Cannon is a no-nonsense, high-energy guitarist steeped in blues, rock, funk, soul, and R&B.
My Woman hints at great things to come for Cannon. A prolific songwriter, he has penned 12 mostly upbeat originals, some of which put a unique spin on the blues. "The Best Love I Never Had" is a shuffle written from the perspective of a married man who is longing to cheat, but doesn't. Cannon is a generous musician who shares the spotlight with fellow guitarists, Linsey Alexander, Eric Davis (see below), and Mike Wheeler on the instrumental "Toronzo Shuffle." "Not Born To Lose" is an incisive piece about Cannon's struggles in the business – "Ain't got no record label to send me far away/Ain't got B.B. or Buddy saying I'm the best since Stevie Ray/Ain't got no blond hair like Kenny Wayne/We all got the blues y'all but we're not the same." Herein lies the dilemma of the contemporary Chicago blues artist . . . Here Comes Trouble (YBR) is Eric Davis And The Troublemakers' debut. Davis is the son of renowned drummer Bobby Davis and began his career as a drummer, hanging out at The Checkerboard and Theresa's but switched to guitar after getting some informal lessons from Buddy Guy. Eric's super-hot playing reflects Guy's influence, and he comes out gun slinging on Here Comes Trouble. The title track says it all: "Look out here comes trouble/trouble is what they say when I walk in /'cause I'm taking over the blues, y'all/and I'm starting right here today." Davis adds some horns and background vocals to the mix, featuring a guest appearance by trombonist and bandleader Big James Montgomery. Like his post-Hendrix contemporaries, Davis is capable of soaring into the stratosphere, yet coming back to mix it up with blues, jazz, funk, and R&B. He is cruisin' on the jazzy instrumental "Bill 'N Jean," and super funky on the James Brown tribute "She's Alright." Davis may not be taking over the Chicago Blues scene too soon, (he has a host of heavyweight axmen like Banks, Anthony Palmer, Osee Anderson, the Brooks Brothers, and Vaan Shaw ahead of him), but he is definitely on his way.
– Beverly Zeldin-Palmer
Category: Columns, Monthly, Sweet Home