Jason Isbell
Not Far From The Tree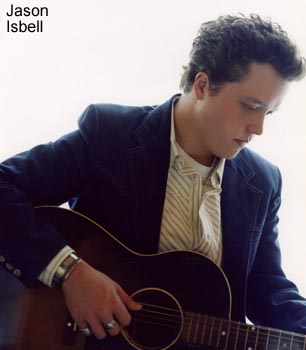 Let's get the answer to "The Question" out of the way first. Why did Jason Isbell, one of Drive-By Truckers' three frontmen and the man responsible for songs such as "Outfit" and "Danko/Manuel," leave the band? "I hate to say 'creative differences' because everyone always says that," Isbell says, "but sometimes that's what it is."
Most of the reasons to believe that this time the cigar is just a cigar swirl around his solo album, Sirens Of The Ditch. Isbell's distinctive voice is there; his ability to write remarkable lyrics remains; his powerful guitar playing is just as evident. The album is co-produced by Isbell and DBT's Patterson Hood and features DBTs Brad Morgan on drums and Shonna Tucker on bass, Patterson and his father David Hood, Spooner Oldham, and reunited Trucker John Neff guesting. As if that wasn't "Kumbayah" enough, when announcing the split on the DBT Web site, Patterson Hood took pains to praise Isbell, Sirens Of The Ditch, and Isbell's new band, The 400 Unit, and term the split "extremely amicable." As Homer Simpson would say, "Borrr-ring."
Sirens Of The Ditch doesn't signal a dramatic musical departure for Isbell in that he hasn't connected with his inner Bach or suddenly revealed a hitherto unknown passion for Andean wind instruments. Yet the album is a decided departure from the Truckers. Musically, the songs are shorter, more compact power pop. Isbell was trying for pop in the vein of Big Star or Cheap Trick, memorable songs with big hooks — "pop as it was," in Isbell's terminology.
Lyrically, the album is more wide-ranging than his work with the DBTs. Replacing the narrative story arc with a more conversational approach, the subject matter is less Southern gothic and more varied.
Sirens Of The Ditch took four years to make, with Isbell recording the songs as he wrote them. "The Truckers were touring so much, there was not a whole lot of time to work on it," Isbell says. "I'd come off tour and go into the studio one, two days to record, then go back on tour."

Sirens Of The Ditch reflects both Isbell's upbringing and the world around him. Born and raised near Muscle Shoals, Alabama — home of the legendary FAME recording studio — Isbell grew up in a family of musicians. Well, extended family. "Everyone except my parents played," says Isbell. "They were the only people for generations who didn't play music." But while Isbell's father didn't play music, he did listen. "My dad listened to everything during his time," says Isbell. "He had a lot of country records and a lot of arena rock records and pretty much everything in between. Merle Haggard and Hank Williams, Jr. and Queen and Free and Bad Company — all these kinds of things. He'd come home from work with the vinyl, put the big headphones on, sit on the couch and listen. He'd be there for two hours. We knew not to bother him during that time."
— M.S. Dodds
For more on Isbell's departures, pick up the July copy of Illinois Entertainer, available free throughout Chicagoland.