1997
A Year By Any Other Name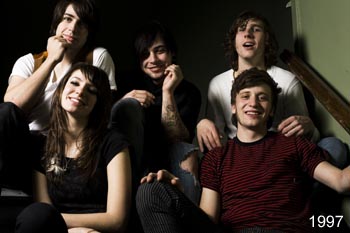 "We used to tell people a lot of different things, that, y'know, it's the year Titanic came out, so we named it after that, just stupid stuff like that. [Or the] year that we all lost our virginity — but, we were 10 and 11, so, it really wouldn't do anything. A lot of people try and bust our balls about the fact we named it 1997 and we were that young then, but [it] doesn't change the difference that you can listen to music no matter when it was made."
Appearing: August 11th at Millennium Park in Chicago.
It's understandable 1997 frontman Kevin Thomas already has a set of stories in place regarding the origin of his band's name. After all, naming your band after such a transitional year practically begs the question of why. Yet, moreso than in any fictitious pre-planned response, the answer is apparent from the first notes of the band's debut record on Victory, A Better View Of The Rising Moon.
That's because the album is stacked floor to ceiling with more hooks than a closet, and some of the strongest Chicago power pop melodies this side of Fall Out Boy. Beginning with album opener "Water Edge," the group launch into a blend of melodic pop rock that doesn't shy from its ever-apparent influences. It's where the late-'90s allusion comes into play, as the group have spent their fair share of time poring over early emo and college radio darlings.
Refreshingly, the band don't distance themselves from or refuse to cop to them.
"I don't see why you should be ashamed to admit your influences," Thomas wonders. "It allows people to have a better read off you and what they're going to enjoy." And while some of their sound's genes are immediate and obvious, some less obvious ones display a greater appreciation for earlier classics and the history of power pop.
"The record is definitely influenced by Get Up Kids, Jimmy Eat World, The Promise Ring, Mineral," he lists, all of which are evident upon even casual listening. "But," he continues, "I grew up on a lot of Beach Boys, and just old stuff like that, where the harmonies were just so clean and clear. I listened to a lot of oldies, Beatles, Dylan — everyone in the band does. That definitely influenced us a lot. And that's, you know, I think where the next level of our music is going to be."
It is perhaps a large part of what sets 1997 apart from the bottomless sea of Warped-ready Hot Topic pop-rockers. The group (also including Alida Marroni on vocals and keys, Caleb Pepp on vocals and guitar, Nick Coleman on drums, and Alan Goffinski on bass) have a fundamental understanding of the power of harmony and melody in their music. All of which no doubt have helped 1997 accomplish an impressive amount in an equally impressively short time.
The group, borne out of a rehearsal space in suburban Lombard, attracted the attention of local indie powerhouse Victory within a year of forming. To say 1997 are speeding through the painstakingly slow music business go-round would be an understatement. Yet, lest it be thought the young outfit are taking such accomplishments for granted, Thomas is quick to realize the band are working on an accelerated time line.
"Well, it's definitely going really quick," he easily cops when the subject is broached. "But, y'know, we put forth the energy to make it this way. So we're just enjoying it and living up as much as we can to our music."
It's not as if the members of 1997 are newcomers to the scene. Quite the opposite, actually. Combined, the group have logged hours in the likes of fellow suburban underground groups including Funeral Etiquette, Constance, and October Fall. So it's not entirely surprising, with all that history, portions of Moon have history pre-dating 1997.
"Some of the songs actually go back three or four years, in other bands. Like 'Water's Edge' has gone through maybe three bands, I think," Thomas concedes.
Yet for some of its dated and upbeat power pop melodies, A Better View Of The Moon offers a fresh and broader scope of emotion. Case in point, "Dropping Dimes": The record's penultimate song and perhaps most vulnerable moment demonstrates the group affixing their jangly pop hooks to a weightier topic, namely coping with an absent father. Not only does the song offer a glimpse to a more troubled side of 1997, it also is one of the record's most melodic and memorable offerings.
"It's from different points of our lives," Thomas explains about the differing sides of the album and the band. "Like, 'Dropping Dimes' is another song that was about three years old. It just depends on what, you know, the situation you're going through is — just being a person."
Thomas' outlook hints at a deeper maturity and a more expansive desire to do more within the 1997 camp. His grand plan involves tearing the MySpace generation away from their computers and putting their efforts into more worthwhile ventures.
"I wanna start another sort of, community of art and creativity, with kids now." He explains. "I want them to really stop focusing on Myspace and, you know, having pictures taken of themselves, and just do something creative. I think that we need another artistic revolution."
They're brave words from a group coming up in the age of the Sidekick. Yet isn't Myspace and the Internet presence in general an invaluable promotional tool in this day and age?
"Oh Myspace definitely helps. I'm not going to lie about that," Thomas clarifies, before going on to explain his views on those who throw rocks and live in glass promo houses. "You know, the reason that bands can get big off , and I think that whoever sort of makes fun of that is, I dunno, it's kind of a joke, because you're getting your music out there and that's the point of music, is to make music and have people listen to it. So, a tool like that is amazing.
"It's all about getting your art out there," Thomas continues. "But it doesn't mean you have to be obsessed with yourself, and, I dunno. I see a lot of good and bad points for it."
They sound like the words of someone older than Thomas. And therein lies one of 1997's greatest weapons in its arsenal: the group's wisdom beyond their years. Or, as someone once said, "Age ain't nothing but a number."
— Jaime de'Medici