Fionn Regan
Choose, Chose, Chosen
Irishman Fionn Regan's wry sense of humor often gets buried beneath his mystically serious songs and deadpan demeanor. But one look at the music video for "Be Good Or Be Gone," the first single off his debut album, The End Of History (Lost Highway), shows a 26-year-old with his tongue firmly placed within his cheek.
Appearing: July 28th at Schubas in Chicago.
The mop-topped singer-songwriter jumps from location to location while strumming his guitar, his voice fighting to overpower whatever distraction is embedded in each new environment. Birds chirping in a pet shop, a bus' billowing exhaust pipe on a city street, the reverberating echo of an empty church, Regan ignores them all. Even standing in a pasture with his galoshes on in front of a gated gaggle of munching cows doesn't faze him.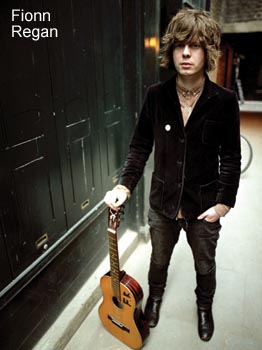 The three-and-a-half-minute short brings to mind the opening sequence in D.A. Pennebaker's rock documentary, Don't Look Back, where Bob Dylan simultaneously discards placards with handwritten bits of lyrics drawn on them as he sings "Subterranean Homesick Blues." Except here, the background scenery is discarded in coordination with Regan's lyrics.
Since releasing two EPs several years ago and finally putting out the full-length in the U.K. last September (it hits stores in the U.S. this month), the Nick Drake and Bob Dylan tags hound Regan mercilessly. Maybe it's the sweet acoustic guitar, the conversationally poetic lyrics, or his impishly unkempt look keeping the comparisons afloat, but like Springsteen before him, Regan's reluctance to wear the crown springs forth from modesty and the self-awareness to admit his beginner status.
"It's my first record and those people are legendary, so it's hard to take any of [the comparisons] seriously," Regan says uneasily. "I think you might need a few screws tightened if you started to think you were wearing those kind of jackets."
As four-star reviews pile in from the British press, Regan takes it all in stride, but pinpointing why he devotes his life's work to writing songs proves difficult. It's not like during career day at school, a young Regan stood underneath the musician sign when asked to proclaim his future aspirations. The young man from Bray in County Wicklow takes an almost blasé attitude about his ascent in the music industry, complete with an invite to play the Glastonbury Festival. Growing up in a household full of artists, both permanent and traveling, surely made an impression and highlighted a life outside the confines of an office complex, but, according to Regan, his path to Singer-songwriterland progressed without much planning on his part.
— Janine Schaults
To find out what Regan's trying to say, find the July issue of Illinois Entertainer, available for free throughout Chicagoland.