Eric Clapton's Crossroads Guitar Fest
The Last Stand?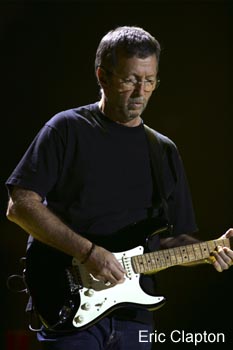 In the 20th century, only the automobile rivaled the guitar as an American icon of personal freedom, expression, and rebellion. The explosion is more owed to the electric models, though acoustic guitars traveled the pre-war countryside and established blues and country music traditions.
Appearing: July 28th at Toyota Park in Bridgeview.
By contrast, today's official symbol of independence is the digital music player, a cold, metal box that obscures tastes and personalities more than empowering and mobilizing them. The analog-to-digital transition is nearly complete, save a few remote flare-ups.
The Crossroads Guitar Festival comes July 28th to Toyota Park in Bridgeview, curated by Eric Clapton — whose playing, 40-years ago, led to his deification. With the dual interest of being both a benefit concert and celebration, it also feels like a relic of a bygone era, one when guitar gods ruled the Earth. The guitar still has legions of fans — the festival sold out in mere minutes — but they are on the margins of pop music, where a flashy solo is as likely to be met with derisive laughter as a pounded fist.
Clapton himself seems to have recognized this. The first Crossroads conference, a three-day affair at Dallas' Cotton Bowl in 2004, has been trimmed substantially and places more emphasis on songcraft with the inclusion of Sheryl Crow, Willie Nelson, Los Lobos, and Alison Krauss; Steve Vai has not been replaced. Rolling Stone recognized it as well, padding their "20 New Guitar Gods" issue (February 22nd, 2007) with members of Red Hot Chili Peppers, Pearl Jam, Radiohead, and My Morning Jacket. (Only one solidly metal dude made the cut: High On Fire's Matt Pike.)
One of those 20 is Derek Trucks, who will be at Toyota Park and has toured with Clapton and The Allman Brothers, as well as his own band.
"As far as something like the [Rolling Stone] cover goes," he says, "that's obviously to sell magazines and I don't think it's breaking any ground for people." But he's aware the class of guitar gods is still firmly rooted in '60s and '70s classic rock, while technical wizardry has been ghettoized to heavy metal.
"I think it's definitely a different day as far as that goes," Trucks continues. "It's not nearly the same. If there were more guys whooping ass and really playing, I might think differently. But there's only a handful of guys I see interested in really playing. I'm sure they're out there, but it's much more image-driven now than it's ever been, so I think that takes away from the musicianship a lot of times."
A larger perspective belongs to Buddy Guy, who was not only at the Cotton Bowl but hundreds of guitar workouts going back about to when Leo Fender introduced the Stratocaster. To him it's cyclical, and the guitar is just out of favor now.
"That's the way it was before the Fender Strat came out, it wasn't on the guitar then," Guy remembers. "The guitar made a name after they amplified it. You couldn't hear it; it was all acoustic. Older guys playing acoustic guitar — that's what I was listening to. But when Leo made that Strat and those things that you could plug it up and be heard, it took over. 'Cause the saxophone was there before that. Who knows what's gonna be next? I don't know if they coming out with another instrument or not. But you know, the saxophone is not dead yet."
And neither is the guitar. Clapton, who could not be reached on vacation for this story, has arranged the second Crossroads Festival so as not to bludgeon people with fretwork. For one, the G3 tours routinely sate the shredding set by trotting out the likes of Vai, Joe Satriani, John Petrucci, and Yngwie Malmsteen. Secondly, Clapton, aka "Slowhand," has never been a speed merchant. Opining one note is usually superior to several, he'd rather latch onto peoples' passions than exhaust their retinas.
It's one answer to "Why is Vince Gill scheduled to perform?"
"This year's gonna be fun," says Gill, who was also there in Dallas. "I don't know what to expect because my band, we're gonna be the house band for three or four folks. I think we're gonna back Sheryl Crow, Willie Nelson, Albert Lee, and maybe somebody else, too. That'll be fun for us to learn those songs and it'd be fun for me because I get to be one of the other guitar players. That's always fun for me when I don't have to sing or talk between songs."
The "guitar gods as a dying breed" debate doesn't stir him so much. Gill is a player and counts Larry Carlton and Sonny Landreth as some of his favorite guitarists, but country music has almost never put the spotlight on the six-string. His 18 Grammys and more Country Music Awards than anyone aren't the scions of Jimi Hendrix or Chet Atkins.
"I don't really fathom that the country music world has ever been really guitar-god friendly. Other than Chet [Atkins]. There've been a lot of great, country players — don't get me wrong. There's tons of guys who can play with anybody in the world and they're country players, but the format never really has been real keen on featuring a guitar player."
He adds, "You talk about Eric Clapton, you think guitar. You think about Joe Walsh, you think about guitar. You think about Carlos Santana, whoever, on and on and on. That world, you think about guitar players. Country music has just been more singer-oriented."
In this way Crossroads is bound to have some surprises. While Sheryl Crow won't have Slash behind her to breathe life into her soul-sucking version of "Sweet Child O' Mine," she will have the understated Gill, who describes his own style as bluesy: "It's not always Telecaster and chicken-pickin' and all that. I feel I'm a bit of a chameleon as a guitar player."
Fans will also be treated to the down-played virtuosity of modern bluegrass, highlighted by Alison Krauss' band, Union Station. Guitarist Dan Tyminski was invited by Clapton in 2004 and for companionship brought battery-mate Ron Block. The duo arrived at the festival unawares, clutching only acoustic guitars without pickups of any sort. The surprises for them kept coming and coming.
"I think as time got closer [Tyminski] realized he was gonna be playing it by himself," Block laughs. "So he asked me to go with him. I didn't even know what it was exactly. Dan just asked me to do it so I just brought a guitar with me and I didn't realize it would be a huge rock stage. So there we were with two guitars — two old Martins with no pickups. We just did what we had to do. We sat real close together and played. That was really a blast to get to play stuff with Dan. I've never done that before on a stage where it was just me and Dan. And then the other thing was that there's all these amazing guitar players."
One of which was the inimitable Vai, whose name is right next to the rustic Block's on the official DVD souvenir. "I found it very ironic, very funny. It's like polar light years apart," he chuckles. "He's an amazing player."
Printing the full list could be an exercise in sadism, as the festival has since sold out and informing people on what they're missing might only aid the common scalper. But aside from others already mentioned in the article, Bridgeview will host Jeff Beck, Doyle Bramhall II, Robert Cray, B.B. King, Sonny Landreth, John Mayer, John McLaughlin, Robert Randolph, Hubert Sumlin, Susan Tedeschi (married to Derek Trucks), Jimmie Vaughan, and Steve Winwood, who will join Clapton for an abbreviated Blind Faith reunion.
The festival is one way Clapton funds the Crossroads Centre, a rehabilitation clinic on the East Caribbean island of Antigua. The Centre also has facilities that cater exclusively to Antiguan residents (some of the poorest in the Western hemisphere) and funds an education series designed to help students find advancement.
— Steve Forstneger
For the rest of the story, find the July issue of Illinois Entertainer, available free throughout Chicagoland.