Marnie Stern
Tap Dancing
Marnie Stern has some good news and some bad news. The good news: She taught herself how to shred, she built her own Web site, she played South By Southwest alone with her guitar and iPod, and she finally has a CD in stores.
Appearing: July 3 at Abbey Pub in Chicago.
The bad news: Google warns her Web site could harm your computer, her iPod buzzes like a can opener, her dog is barking, her mom is calling, and her drummer can't seem to find his passport. Is this the rock 'n' roll lifestyle?
"It's a daily thing," the singer/guitarist says.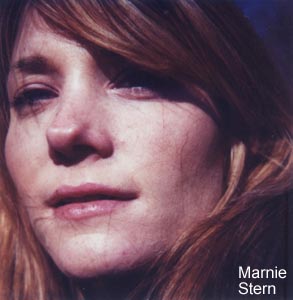 Stern, drummer Zach Hill (of Hella), and guitarist Robby Moncrieff are two weeks into a five-week practice run in Sacramento, California. They're preparing for Stern's first tour with a live band. Practice today is scheduled for six hours, but they'll be lucky if they squeeze in three.
Stern says she's supposed to repeat a simple mantra during these stressful moments: "My eyes are shining diamonds and my body is a brick of gold." (Her best friend swears it helps.) So the native New Yorker excuses herself from the phone interview and, well, just swears.
"Goddamnit!" she hollers across the studio practice space. "Zach, can you pet her so she stops barking?"
It's a charming mess like In Advance Of The Broken Arm (Kill Rock Stars), a cacophonous debut of two-handed tapping, unintentional speed metal, and cheerleader vocals. As clatter threatens to grow out of control, Stern's yelp restores a sort of natural order. There's something charismatic about her squeakiness.
"My voice is high and that has something to do with it," she says in a measured tone she later reveals is due to applying makeup. "It has a jumpiness or a movement to it that makes it accessible." On CD she switches between the coo of Karen O and the chirp of Melt-Banana's Yasuko Onuki. Vocal notes follow a maze of axework; it's a sort of tour guide effect, which makes complicated songs memorable.
"I do still in a way consider myself a singer-songwriter," she continues. "When I sit there everyday — it's playing, but it's playing to write a song. The challenge of trying to put vocals and melody to that style of stuff — that's sort of the fun part of it for me."
Stern, 30, began singing and playing guitar when she was 18. Her first tunes were acoustic and poppy. She says she was more of a storyteller than a guitar player. Bruce Springsteen was her first influence. As an adult she discovered experimental music through indie rock (not through metal, she stresses).
"Basically, I found the outside tier of indie rock — you know, the most accessible, the most popular," she explains. "I listened to that for awhile, but then it took a lot of digging to go deeper and deeper, especially because I wasn't part of any community of friends who were saying, 'Hey, listen to this, listen to that.'"
She went alone to see bands like Ex Models and Deerhoof at clubs in New York. When she stumbled across drum-heavy outsiders Hella, everything she thought she knew about music changed. Springsteen had met his match.
— Mike Meyer
To learn more about Stern's "technique," grab the July copy of Illinois Entertainer, available free throughout Chicagoland.