Fender
Electracoustic Series Guitar

After seven years of the status quo, Fender have redesigned their Electracoustic Series. Fender say both the Telecaster (Telecoustic) and Stratocaster (Stratacoustic) models offer "electric playability and acoustic tonality" while still retaining the timeless Stratocaster and Telecaster look and feel. A collaboration between Fender's Corona, California and Nashville, Tennessee design centers, both guitars feature spruce tops, maple backs, sides, and (real Fender electric guitar) necks, a standard Telecaster neck pickup, and a Fishman Classic IV MB preamp that allows players to "blend the below-saddle pickup with the Tele pickup for fantastic acoustic/electric tones." Though assembled in the U.S.A., Fender have managed to keep retail reasonable at roughly $855. For more information, including details on the JZM Deluxe, the acoustic counterpart to the Jazzmaster and Jaguar models, visit www.fender.com.
CAD
Joe Satriani Guitar Amp Mic Pack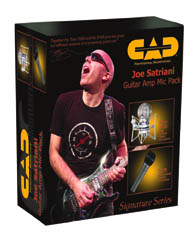 CAD are simplifying microphone buying with their Joe Satriani Guitar Amp Mic Pack, offering rockers a way to mic their amp and vocal for both studio and stage. Satriani's Mic Pack includes his "favorite" CAD mics: the Trion 7000 dual-element ribbon mic for the amp and D189 Supercardioid Dynamic for voice. CAD has also introduced a signature Acoustic Mic Pack for Al Di Meola fans, if Satriani is a little too spicy for your taste. List price was not available at press time, but check out www.cadmics.com for more product details.
KORG
mini-KP KAOSS Pad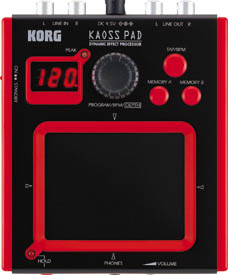 Honey, they shrunk the KAOSS Pad. Continuing the industry obsession to shrink every digital recorder and effect unit into a 3×5 iPod-size gizmo, Korg have taken their popular KAOSS Pad and jammed it into the the mini-KP, offering touch-pad effects and weirdo loops and noises for DJs and other avant garde performers. Using the same innards as big brother KAOSS, junior uses fingertip control plus battery power to make the mini-KP useable for live band or DJ performances utilizing MP3 players. Music or voice performance fed into the KAOSS via an RCA line in/out, effect parameters are assigned to the X and Y-axis of the Kaoss touch pad and can be controlled simultaneously; this means complicated operations that would otherwise take two hands, such as tweaking delay and feedback or simultaneously adjusting cutoff and resonance of a sound, can be done with one. Sound confusing? Think of a digital delay and sampler on steroids. The mini-KP lists for $249. Visit www.korg.com for full details.
News & Notes
Fat Cat Guitars in Carpentersville is giving away a pair of tickets to see Steve Vai at House Of Blues in September. Enter to win at the store or visit www.fatcatguitars.com.
Guitar Center and GHS strings are offering free guitar re-stringing clinics at various Chicagoland locations throughout the summer. Visit www.guitarcenter.com for more info.
– David Gedge